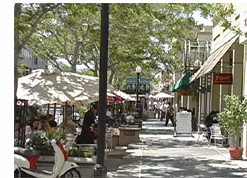 This section focuses on communities and development, including sustainable communities, smart growth, land use, regional planning, growth management, livable cities, and agricultural land protection. It includes articles, speeches, reports, interviews, book and anthology excerpts, PowerPoint presentations, and presentation transcripts.
How we utilize land has a large impact on our collective environmental footprint. Smart growth contributes environmental, economic, fiscal, and social benefits through mixed use, pedestrian and mass transit orientation, and higher density buildings while preserving parks and open space. Sustainable communities can involve many diverse aspects, from designing spaces for community interaction to hosting local farmers markets. To manage growth for the greatest benefit, there must be coordinated local and regional planning efforts that ensure the implementation of compatible and responsible land use and transportation policies.

Conference & Campus Speakers On
Communities & Development Here >>

Give Cities Power To Make Sustainable Change. Article by Mike Harcourt. "Our cities and communities may be on their way to becoming the most sustainable in the world - but we are facing significant choices. It is all about where we focus our attention and where we spend our resources." Article >> More about Mike Harcourt >>

The Communities We Want: Livable Cities Part 1. Article by Karen Walz. Livability. Smart growth. Sustainability. These are some of the phrases politicians, urban planners, developers and others use when describing the future of American communities. The words used by residents are more direct: safe, clean, affordable, friendly, with good jobs. Article >> More about Karen Walz >>

Making Our Postwar Cities Better: Livable Cities Part 2. Article by Karen Walz. What makes a livable city? What lessons can be learned from today's cities so the cities of the future are both livable and sustainable? In this article, the examination of major postwar cities in the United States continues with an assessment of the characteristics that define these cities and distinguish them from older major cities. Article >> More about Karen Walz >>

Building Cities To Attract People & Businesses: Livable Cities Part 3. Article by Karen Walz. As we begin the 21st century, it is clear that emerging technologies and changes in the economy will have a significant impact on the shape of our urban areas. At the same time, the long-term viability of these areas will depend on the locational choices made by millions of individuals and businesses, choices that will be based on the same question as in past centuries - is this city a good place to live and conduct business? Article >> More about Karen Walz >>

Creating Economically Thriving Cities: Livable Cities Part 4. Article by Karen Walz. While the term 'livable community' often evokes an image of pleasant neighborhoods, inviting parks and friendly people, a city's economic health is equally important to its livability. Without jobs, few residents will choose to remain in those neighborhoods. Without thriving businesses, the local government will be unlikely to have the tax base to maintain those parks. Continuing economic vitality is also an important part of a community's sustainability over the long term. Article >> More about Karen Walz >>

How Profit Shapes Urban Space. Article by Jeffery J. Smith. Like the rest of the universe, US cities keep expanding. Some time before the universe begins to contract, American metro regions may, too. What counterpart to gravity might suck suburbia back into the hole of our doughnut cities? Article >>
Additional collections of articles on Land Use and Conserving the Built Environment issues are available from The EcoIQ Magazine here and here.

Conference & Campus Speakers On
Communities & Development Here >>