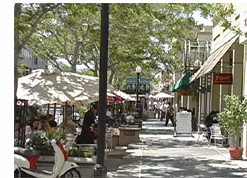 This section focuses on communities and development, including sustainable communities, smart growth, land use, regional planning, growth management, livable cities, and agricultural land protection. It includes articles, speeches, reports, interviews, book and anthology excerpts, PowerPoint presentations, and presentation transcripts.
How we utilize land has a large impact on our collective environmental footprint. Smart growth contributes environmental, economic, fiscal, and social benefits through mixed use, pedestrian and mass transit orientation, and higher density buildings while preserving parks and open space. Sustainable communities can involve many diverse aspects, from designing spaces for community interaction to hosting local farmers markets. To manage growth for the greatest benefit, there must be coordinated local and regional planning efforts that ensure the implementation of compatible and responsible land use and transportation policies.

Conference & Campus Speakers On
Communities & Development Here >>

Big Economic Benefits From Open Space. From EcoIQ Magazine. Parks and the conservation of natural and agricultural lands contribute billions of dollars every year to local economies across the nation, according to a report by the Trust for Public Land. Report >>

Building Cities To Attract People & Businesses: Livable Cities Part 3. Article by Karen Walz. As we begin the 21st century, it is clear that emerging technologies and changes in the economy will have a significant impact on the shape of our urban areas. At the same time, the long-term viability of these areas will depend on the locational choices made by millions of individuals and businesses, choices that will be based on the same question as in past centuries - is this city a good place to live and conduct business? Article >> More about Karen Walz >>

Building Sustainable Communities: The Historic Imperative For Change. Article by Siegfried Brenke, Dennis Church, William Hansell, Edward Vine & Richard Zelinski. The history of humankind is a story of change -- sometimes the slow change of "evolution," and sometimes the traumatic change of "revolution." The first Earth Day increased our appreciation of the value of the natural world – an evolutionary shift which began to improve our stewardship of the Earth's resources. Today we must ask if this evolutionary improvement is good enough. Can we afford to change slowly, or is the accelerating pace of environmental degradation a threat of such significance that it demands a "revolution" in our relationship to our endangered Earth? Article >> More about Dennis Church >>

Building Sustainable Communities: An Opportunity and A Vision For A Future That Works. Speech by Dennis Church. Today, many resource economists and scientists fear that mankind may be consuming and destroying the living and non-living natural foundation upon which our lives depend. While I firmly believe that apocalyptic predictions are both inappropriate and unfounded, any rational person must acknowledge the tremendous risks involved in what we are doing to our one and only planet. Speech >> More about Dennis Church >>

The Communities We Want: Livable Cities Part 1. Article by Karen Walz. Livability. Smart growth. Sustainability. These are some of the phrases politicians, urban planners, developers and others use when describing the future of American communities. The words used by residents are more direct: safe, clean, affordable, friendly, with good jobs. Article >> More about Karen Walz >>

Creating Economically Thriving Cities: Livable Cities Part 4. Article by Karen Walz. While the term 'livable community' often evokes an image of pleasant neighborhoods, inviting parks and friendly people, a city's economic health is equally important to its livability. Without jobs, few residents will choose to remain in those neighborhoods. Without thriving businesses, the local government will be unlikely to have the tax base to maintain those parks. Continuing economic vitality is also an important part of a community's sustainability over the long term. Article >> More about Karen Walz >>

Ecologically Based Municipal Land Use Planning. By William Honachefsky. "I admit there was a time in my own early years as a young land surveyor (the pre-Earth Day decade at least) when I too regarded the land simply as a commodity, and not part of a larger continuum, intimately linked to the surrounding air, water, vegetation, and wildlife." Book Excerpt >>

Green Jobs Growing In Your Home Town Government. By Melissa Everett. The Community Lifestyle Campaign of Kansas City, Missouri motivated households to reduce garbage, save water and energy, use transportation alternatives and more. For the city, this effort was a natural outgrowth of a program called Clean Sweep, where neighborhood teams match "sweat equity" with city services to help clean up vacant lots, plant community gardens, maintain parks, and generally make their neighborhoods more livable. Article >> More about Melissa Everett >>

How Profit Shapes Urban Space. Article by Jeffery J. Smith. Like the rest of the universe, US cities keep expanding. Some time before the universe begins to contract, American metro regions may, too. What counterpart to gravity might suck suburbia back into the hole of our doughnut cities? Article >>

Livability and Community Renewal. By Congressman Earl Blumenauer. When Bette Midler was asked what she would do if she had an opportunity to start her career anew as something other than an entertainer, without missing a beat she said she would be an urban planner. Speech Excerpts >>

Making Our Postwar Cities Better: Livable Cities Part 2. Article by Karen Walz. What makes a livable city? What lessons can be learned from today's cities so the cities of the future are both livable and sustainable? In this article, the examination of major postwar cities in the United States continues with an assessment of the characteristics that define these cities and distinguish them from older major cities. Article >> More about Karen Walz >>

New Paradigm For Local Government. By Dennis Church. The pressure on governments at all levels to change they way they do business is growing steadily. Public confidence in governmental institutions is low. Polls show many people feel a deep anxiety about the future. People no longer take a better future for their children as an article of faith. Article >> More about Dennis Church >>

Sprawl Causes Costly Tree Loss. By American Forests. A study by the national conservation group American Forests documents a dramatic loss of tree cover in the southeast portion of the Chesapeake Bay watershed, including the greater Baltimore-Washington metropolitan area. Study >>

Toward A Sustainable City: A Report On Natural Resources And The City Of San Jose. Report by Dennis Church. Humanity's total environment is a synthesis of man-made and natural systems. If we are to consciously shape our future, we must learn to manage our total environment -- to reconcile the conflicts and contradictions between man-made and natural systems. It is a false and tragic dichotomy to pit economic prosperity against environmental resource conservation. Report >> More about Dennis Church >>

Urban Living In The New Millennium. By Jerry T. Estruth. The leaders of our cities are struggling to build transportation systems and to create communities that are livable and provide an environment friendly to people and animals. Slowly, awareness is growing and methods are being developed to enable us to build self-sufficient places to live in the future. Article >>
Additional collections of articles on Land Use and Conserving the Built Environment issues are available from The EcoIQ Magazine here and here.

Conference & Campus Speakers On
Communities & Development Here >>