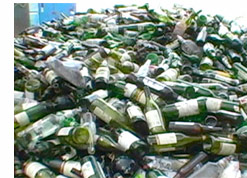 This section focuses on wastes and recycling articles, speeches, reports, interviews, book and anthology excerpts, PowerPoint presentations, and presentation transcripts. Topics include waste reduction, zero waste, reuse, recycling programs and policies, salvage and remanufacturing, recycled content materials and products, municipal, industrial, and manufacturing solid waste, green waste, waste biomass, composting, construction and demolition debris, waste to energy, and toxic and hazardous waste.
A critical part of sustainability is recycling absolutely everything possible in commercial, industrial, and residential environments. Minimization of the valuable materials that end up in landfills and maximization of materials reused for high-value purposes is vital. This relieves pressure on the Earth's natural resources and environments by reducing the need to extract virgin raw materials.

Conference & Campus Speakers On
Wastes & Recycling Here >>

Am I A Good Candidate To Sell My Used Cardboard Boxes For Reuse? Article by Marty Metro. The CEO of UsedCardboardBoxes.com offers seven assessment criteria to see if your business might be a good prospect to sell its used cardboard boxes for reuse. Article >> More about Marty Metro >>

Art, Nature & Recycling. Article by Reena Kazmann. Whether you think of your household garbage or your local landfill, chances are good that what comes into your mind's eye is not a pretty picture. But there's beauty to be found everywhere, and so its not really surprising that a growing number of talented and committed artists, designers, architects, and builders are converting old stuff that would have gone to landfills into a wide array of useful and beautiful products. Article >>

'Boxes' Get A Second Life. Story featuring Marty Metro. The industry generically known as "cardboard" is valued at $49 billion in the U.S. Unfortunately, most of that material is used once and then recycled or thrown away. Could there be a better solution? Buying used corrugated shipping cases and then reselling them for reuse – how simple is that? Well, not that simple, it turns out. Story >> More about Marty Metro >>

Can Post-Consumer Recycled Products Save the Songbirds? Article by Tom Kemper. From the songbirds above our heads that croon a tune to the snails below our feet that inch along, the world's creatures are relying on us to conserve resources. Recycling saves massive amounts of energy, conserves huge volumes of water, eliminates the use of chemicals, and saves precious natural resources, like trees, air, and water. But recycling isn't enough. You have to go that extra step and purchase the recycled products to really make a difference. Article >> More about Tom Kemper >>

From Wastes To Resources: It's Time for a Paradigm Shift. Article by Richard Gertman. We need to return to the goal -- sensible diversion programs that recover materials and maintain their value. "Resources should be recovered for their value, not just to keep them out of a landfill. We need to change the focus, but to do so will require a paradigm shift." Article >> More about Richard Gertman >>

Going Paperless: Not As Green As You May Think. Article by Don Carli. "Please consider the environment before printing this email." This seemingly well-intentioned plea suggests that digital communication is greener than paper based communication. But is it? If your goal is to save trees or do something good for the environment, the choice to go paperless is not as green or simple as some would like you to think. Article >> More about Don Carli >>

Guidebook For Community Adoption Of Recycling And Pay As You Throw Ordinance. Guide by Lisa Skumatz & Juri Freeman. Many communities and counties want to increase recycling, but frankly, don't know where to start. There are LOTS of feasible steps you can take to increase recycling… One of the most effective – and least politically difficult – options is to implement a local recycling and "Pay as you Throw" (PAYT) ordinance. Guide >> More about Lisa Skumatz >>

Measuring Source Reduction: Pay As You Throw. Report by Lisa Skumatz. Study results show that the tonnage reductions attributable to pay-as-you-throw and variable rate structures (PAYT/VR) are very substantial. The source reduction benefits alone were estimated to be 6 percent of generation, above and beyond the increases in recycling and yard waste diversion encouraged by PAYT/VR. Study estimates show that PAYT/VR reduces residential disposal by a total of 16-17 percent at the landfill from these three impacts (source reduction, recycling, and yard waste diversion). Report >> More about Lisa Skumatz >>

Our Plastic Century. Article by Wallace 'J' Nichols. But there's nothing convenient about our future with plastic. We have a lot of work to do to reverse this mess. There are opportunities for leadership, innovation, research, solutions, green businesses, sustainable tourism, cleanup and restoration enterprises, and as much creative passion-filled activism as we can inspire. Reigning in and reversing the century of freedom we've given to plastic will take an enormous wave of personal and political will. Article >> More about Wallace 'J' Nichols >>

Packaging And Plastics: What's A Consumer to Do? Article by Natalie Reitman-White and Bob Doppelt. Reviews the problems and sustainable solutions in plastic packaging. Includes discussions of our throw away society, plant-based bioplastics, compostability and recycling issues, genetically engineered plastics, corn plastic, and consumer choices. Article >> More about Bob Doppelt >>

Pay As You Throw. Article by Lisa Skumatz. "Pay As You Throw" (or PayT) is a trash rate strategy that charges households a higher bill for putting out more trash for collection. Sounds fair – fee for service, just as households are charged a higher bill for using more water, electricity, etc. More than 7,000 (25 percent) of communities nationwide agree and use some form of PayT. Article >> More about Lisa Skumatz >>

Recycling Incentives. Article by Lisa Skumatz, David Juri Freeman, Dana D'Souza and Dawn Bement. What can communities do to move recycling and diversion forward? Insights are offered In an independent, numbers-based comparison of the performance, cost, strengths and weaknesses of three strategies being used around the country: the recycling incentive alternatives of RecycleBank; recycling credits; and pay-as-you-throw (PAYT). Article >> More about Lisa Skumatz >>

Rethinking Recycling. Article by Susan Kinsella and Richard Gertman. Each success and failure reverberates throughout every sector of the recycling industry, but no changes affect the industry more so than the push toward single-stream recycling collection and processing. Article >> More about Richard Gertman >>

Single Stream Recycling Best Practices Implementation Guide. Report by Susan Kinsella and Richard Gertman. While the advantages of single stream collection programs have been driving hundreds of U.S. and Canadian communities to embrace single stream recycling, the problems it can create have yet to be adequately addressed and resolved. Instead, the necessarily collaborative nature of the overall recycling system has been fraying. Report >> More about Richard Gertman >>

Small Business Grant Interview Series: Used Cardboard Boxes. Interview with Marty Metro. The CEO of UsedCardboardBoxes.com (UCB) shares the story of his environmentally-conscious cardboard box reuse company. UCB "rescues" truckloads of quality used boxes from large US manufacturers that might otherwise recycle them, or just throw them away. UCB offers a nationwide service to buy quality used boxes for reuse. UCB pays companies more than traditional recycling rates for the used boxes and then resells them for less than the price of new boxes. Interview >> More about Marty Metro >>

Success In Selective Routing. Article by Richard Gertman and Tracie Onstad Bills. How can recycling collectors ensure clean material when serving the commercial space? One innovative approach involves strategically picking up loads from businesses that generate similar types of discards. Article >> More about Richard Gertman >>

What Does Mandatory Recycling Really Mean? Article by Richard Gertman. Recycling programs throughout California recover significant quantities of recyclable materials, but over half of all materials still being landfilled are recyclable or compostable. Even though most communities collect paper in their curbside recycling programs, over 20 percent of the remaining residential waste is recyclable paper. Article >> More about Richard Gertman >>

What We Learned in the Rainforest: Business Lessons from Nature. Book Excerpt by Tachi Kiuchi and Bill Shireman. In the rainforest, nature uses feedback to "close the loop." In the face of limits, feedback triggers adaptations that lessen or make an end-run around physical constraints. In business, companies like Coors use feedback to "close the loop," triggering innovations that lead to new products, processes, businesses, and profits. Book Excerpt >> More about Tachi Kiuchi >> More about Bill Shireman >>

What Would Jacques Do? Article by Wallace 'J' Nichols. We must confront our own legacy with oil, plastic and associated toxins. We should stop pouring toxins, any toxins, into the drains around us; reject anything plastic we use once then throw away; and free our homes, schools and businesses of single-use disposable plastics. Article >> More about Wallace 'J' Nichols >>

What You Need To Know About Recycling: It's More Than Putting Stuff In Bins. Article by Tom Kemper. Take a deeper look at your city's recycling program. You might have 90-gallon roll-away containers used for facilitating recycling of recyclable materials. You put all this recyclable "stuff" in a bin, and it goes to a material recovery facility (MRF). All this stuff is co-mingled, meaning you have all this material – mixed plastics, mixed glass, paper – mingled together. The personnel at the MRF often recover what is most easily separated with machinery. Often, a significant portion of what you put in the recycling bin never gets recycled. Article >> More about Tom Kemper >>
An additional collection of articles on Solid Waste & Recycling related issues is available from The EcoIQ Magazine here.

Conference & Campus Speakers On
Wastes & Recycling Here >>