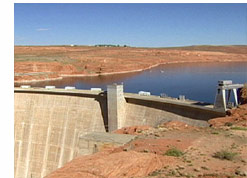 This section contains articles, reports, interviews, book and anthology excerpts, PowerPoint presentations, and presentation transcripts on water resources and water supply. Topics include water efficiency and conservation, water quality, drinking water supply, ocean, watershed, and aquifer protection, and creek restoration.
Water resource plans that stress water efficiency and water resources protection are an important part of environmental sustainability. Climate change, overpopulation, and wasteful use are making unsustainable demands on our global freshwater resources. Watersheds and oceans are also at risk because of development, pollution, and global warming. Water efficiency, water conservation, water reclamation, pollution prevention, improved land management, and ecosystem restoration will help us safeguard our water supplies and water habitats.

Conference & Campus Speakers On
Water Supply & Resources Here >>

Damn the Torpedoes & Torpedo the Dams. Article by Rob Caughlan. Four hundred miles of California's fabulous beaches are starving for sand, but surfers and other beach lovers have the muscle to bring them back. "We know why they're starving and shrinking, and we know how to rescue them." Article >> More about Rob Caughlan >>

Water Deficits Growing In Many Countries. Article by Lester Brown. Our water deficit is historically recent and growing fast. Because this impending crisis typically takes the form of aquifer overpumping and falling water tables, it is not visible. And if the world is facing a water shortage, it is also facing a food shortage. Article >>

Water Crisis Ships In. Article by Jay Weinstein. "We're all concerned about global warming. But how many of us see transatlantic shipping of water as a related problem? Choosing local water can make a real difference in the amount of transportation pollution generated in our name." Article >> More about Jay Weinstein >>

Present Value, Future Value: Intergenerational Ethics In Water Supply Planning. Article by Eric Rosenblum. In 1746 Benjamin Franklin warned, "When the Well's dry, we know the Worth of Water." As difficult as it is to anticipate thirst in the midst of rain, it is even harder to appreciate today the needs of generations yet unborn, and to provide for them. Article >>
An additional collection of articles on Water & Wastewater related issues is available from The EcoIQ Magazine here.

Conference & Campus Speakers On
Water Supply & Resources Here >>