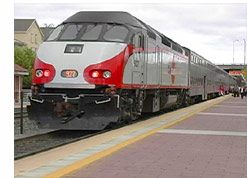 Articles and other written resources (including reports, interviews, book and anthology excerpts, PowerPoint presentations, and presentation transcripts) with a focus on transportation and mobility are included in this section. Switching to clean fuel technologies and increasing the use of alternative transportation methods that have a significantly reduced carbon footprint are key elements in environmental sustainability.
Widespread reliance on large inefficient vehicles powered by fossil fuels to meet our transportation needs has contributed significantly to global warming. Plug-in hybrids, electric vehicles, bicycles, pedestrian friendly communities, cellulosic biofuels, and integrated mass transit infrastructure all have a part to play in meeting our transportation needs more sustainably.

Conference & Campus Speakers On
Transportation & Mobility Here >>

Covering Autos, Climate, and Energy: Overcoming Challenges Facing the Media. Article by Julie Halpert. This article from The Yale Forum on Climate Change and the Media provides tips to journalists seeking to cover the automobile industry. Article >>

Diesel vs. Hybrid. Article by Julie Halpert. Discusses whether cars with more environmentally-friendly diesel engines will overtake hybrid cars. Article >>

EPA Ann Arbor Vehicle Emissions Lab Offers Reporters Fertile Ground for Stories. Article by Julie Halpert. Tips for journalists seeking information from the Environmental Protection Agency lab. Article >>

Ethanol's Failed Promise. Article by Lester Brown and Jonathan Lewis. The "food-to-fuel" mandates should be changed because they do not move "America toward energy independence and mitigate global climate change... the evidence irrefutably demonstrates that this policy is not delivering on either goal. In fact, it is causing environmental harm and contributing to a growing global food crisis." Article >>

Gentlemen, Start Your Fuel Cells! The Hydrogen Road Tour Takes Off. Article by Jim Motavalli. A cross-country tour of state-of-the-art hydrogen-powered vehicles demonstrates their potential, while bringing to light the challenges they face in becoming a reality for the general public. Article >> More about Jim Motavalli >>

IndieBound: Transportation. Interview with Jim Motavalli. Motavalli weighs in on individual rights and transportation, the politics and infrastructure of passenger rail, clean fuel buses, the year that hydrogen fuel cell technology will be financially viable, and more. Interview >> More about Jim Motavalli >>

Mass Transit Critical to Chattanooga's Turnaround. From EcoIQ Magazine. "Chattanooga has undergone a renaissance, from being a city with severe environmental and economic problems to one with a revitalized economy and award-winning improvements to the living environment," according to Secretary of Transportation Rodney E. Slater. Article >>

Petroleum: Once Blessing, Now Curse. Article by Rod Diridon. Henry Ford's dream of mobility has had a staggering impact. The nation has been provided mobility, jobs, exports, and an auto-worshipping culture. But Ford's dream has today become a strangling nightmare of fouled air, hopelessly congested highways, and a massive national balance of trade deficit. Article >>

Playing Polo: A Super Green VW Diesel For The U.S.? Article by Jim Motavalli. Why wouldn't Volkswagen's Polo BlueMotion diesel car, with a combined average 61 MPG fuel efficiency, be imported to the US? Article >> More about Jim Motavalli >>

Power To The People: Run Your House On A Prius. Article by Jim Motavalli. Dr. Swinney lost power at his home during a hurricane, but he plugged his Toyota Prius into the backup uninterruptible power supply unit and soon the refrigerator was humming and the lights were back on. Article >> More about Jim Motavalli >>

Rethinking Transportation 2020-2030: The Disruption of Transportation and the Collapse of the ICE Vehicle and Oil Industries. Report co-authored by Tony Seba. This report provides a detailed analysis of data, market, consumer and regulatory dynamics. It finds that within 10 years of the regulatory approval of driverless vehicles, 95 percent of U.S. passenger miles traveled will be served by on-demand Autonomous Electric Vehicles owned by companies providing Transport as a Service. "We are on the cusp of one of the fastest, deepest, most consequential disruptions of transportation in history," Seba explains. Report >> More about Tony Seba >>

Unburnable Fuels: Removing Reserves From The Balance Sheet. Article by Micha Tomkiewicz. The notion advanced in this article, that fossil fuel companies might be significantly overvalued, has the ring of truth while also having enormous strategic potential. Quantitative analysis shows clearly that most recoverable fossil fuels will need to be left in the ground if we are to hold climate disruption to tolerable levels. This cannot help but impact the value of all fossil fuel related assets, from oil fields to coal mines, from oil tankers to refineries, and from coal fired power plants to coal fired cement kilns. Article >>
An additional collection of articles on Transportation related issues is available from The EcoIQ Magazine here.

Conference & Campus Speakers On
Transportation & Mobility Here >>