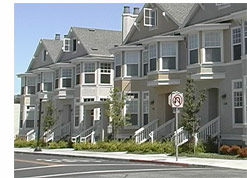 This section focuses on a broad spectrum of green building, materials selection, and green design issues. It includes articles, speeches, reports, interviews, book and anthology excerpts, PowerPoint presentations, and presentation transcripts. Specific topics include sustainable architecture for commercial, residential, industrial and public buildings, green renovation and remodeling, and green interior design.
Conventional buildings consume large amounts of energy and natural resources and are one of the most significant sources of greenhouse gases. Reducing virgin material use, water and energy consumption, and occupant exposure to toxics are keys to creating more sustainable buildings. To do this, we need to use LEED building standards, select certified lumber, forest products, and recycled materials, design for energy and water efficiency, employ daylighting and renewable energy, and specify non-toxic paints, floor and window coverings, and other furnishings.

Conference & Campus Speakers On
Green Building, Materials & Design Here >>

David Gottfried Lights The Fuse For 'Explosion Green'. Interview with David Gottfried. The founder of both the U.S. Green Building Council and the World Green Building Council, Gottfried has helped to catalyze a multi-billion-dollar industry that's transformed how we think about the built environment. This program discusses how he views the movement he helped create and his wish list for what needs to happen next. Interview >> More about David Gottfried >>

Deep Green Buildings Are A Necessity. By Denis Hayes. A deep green building is not a mere stylistic preference, like Art Deco or Brutalism. The decision to generate power with rooftop solar panels is not akin to selecting granite countertops. Deep green buildings are a necessary component of resilient cities, and resilient cities are a strategic necessity if the current generation is to pass on a diverse, habitable planet to the next. Article >> More about Denis Hayes >>

Design Your Home Using Passive-Solar Heating. Article by Dan Chiras. Designing your dream home using passive-solar heating could save you thousands of dollars. Including simple, passive-solar features in any style home can cost next to nothing up front and save you unbelievable amounts over the long-term in reduced energy bills. Millions of homes easily could be designed to capture free heat directly from the sun. But instead we are burning — wasting — huge amounts of oil and natural gas every winter. Article >> More about Dan Chiras >>

Green Home Projects in a Down Economy. Article by Francesca Lyman. In this New York Times online article, Lyman talks about the challenges and opportunities for green home builders in a challenging economic climate. Preselling, venture investment, and betting on increasing energy costs come into play. Article >> More about Francesca Lyman >>

The Greenest House. Interview with David Gottfried. Green is beautiful, says Gottfried, and he has renovated his house to prove it. His 1915 Craftsman home in Berkeley, California is so energy efficient that it has received the highest U.S. building rating for a reconstructed building – a platinum LEED certification. Where in all this are eco-lessons the average homeowner can put into practice? Interview >> More about David Gottfried >>

How Grant Makers Can Turn Real Estate Assets Green. By Denis Hayes and Dennis Creech. Unlike public corporations, foundations are not accountable to shareholders or investors. The U.S. tax code entrusts them with a pool of tax-advantaged money and an expectation that they will use it to help advance the public good. Because of the federally subsidized tax benefits foundations receive, they have a special responsibility — and the wherewithal — to step out and take risks in areas where business often fears to tread. Article >> More about Denis Hayes >>

The Living Building Challenge: How Limits Can Liberate. Article by Christine Ervin. In the case of climate change, a cap is simply fundamental to creating an emissions trading market, which, in turn, provides the best climate for innovative technologies. No wonder so many corporate executives are calling for a national cap sooner rather than later; they see it as vital to lowering costs, increasing flexibility and giving us more room to maneuver under rapidly changing conditions. Article >> More about Christine Ervin >>

Market Transformation: The Green Building Story. Book chapter by Christine Ervin. A troubling economy found many companies turning to green buildings as a hedge against risk and stiff competition. Ten years earlier, no such market even existed. The story of green building's sudden rise in the United States, and in a sprawling industry notoriously hard to change, reflects the timely convergence of technology, expertise, and leadership to tackle compelling needs. Chapter >> More about Christine Ervin >>

Metropolis On Green Building. Interview with David Gottfried. Kira Gould, director of communications for William McDonough + Partners, talks with United States Green Building Council founder David Gottfried about his latest activities and plans. Interview >> More about David Gottfried >>

The Rise of 'Green' Modular Homes. By Francesca Lyman. Michelle Kaufmann, a pioneer in green prefab designs like the solar-ready "Glide House," which was exhibited at the National Building Design museum, applauded efforts by big manufacturers like Clayton — which is owned by Warren Buffett's Berkshire Hathaway. "It's a huge legitimizer of this concept," Ms. Kaufmann said, "when Warren Buffett says this is the future." Article >> More about Francesca Lyman >>

Sustainable Building: The Buzz Is Greater Than The Saw. Article by Katherine Thornberry. The latest buzzword being heard in design and construction circles across the U.S. is "sustainability." Sustainable design and building is generally defined as using products and procedures that make environmentally sensitive use of land, minimize waste, maximize resource and energy efficiency, conserve water, and do not pollute indoor air. Article >>

A Unique Home With A Unique Story. Article by Katherine Thornberry. The eclectic mix of homes that characterizes the Los Altos, California Loyola Corners neighborhood now boasts another unconventional home, but one with quite a unique story. Amid the modest cottages that date to the area's early orchard days, the ranch-style homes of the 1950s and 60s, and today's million dollar executive homes, stands a home constructed of all-metal framing and roofing and environmentally-sensitive building materials. Article >>
An additional collection of articles on Green Design & Building related issues is available from The EcoIQ Magazine here.

Conference & Campus Speakers On
Green Building, Materials & Design Here >>