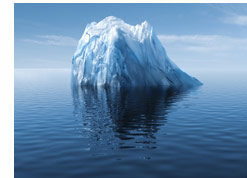 This section focuses on climate change and global warming and its specific social, economic, political, and environmental impacts. It includes articles, reports, interviews, book and anthology excerpts, PowerPoint presentations, and presentation transcripts.
Climate change is the challenge of the century facing people and the planet. Most scientists agree that carbon emissions from our fossil fuel based economy are a significant cause of global warming. Rising temperatures are causing glaciers to melt, sea levels to rise, violent storms, mega-fires, droughts, coral bleaching, and more. These changes are having a major impact on food supply, availability of fresh water, and human health and safety, not to mention the devastating effects to many species and habitats. Through collective political, corporate, and societal action worldwide, we have the opportunity to turn the tide on climate change by investing heavily in renewable energy sources, resource conservation, transportation alternatives, green building technologies, and other carbon emission reducing measures.

Conference & Campus Speakers On
Climate Change & Global Warming Here >>

Abrupt Climate Change And The Economy: A Survey With Application To Oregon. Report by Eban Goodstein and Bob Doppelt. This report outlines the possibilities for an abrupt climate change scenario, which would have potentially catastrophic impacts for Oregon's economy, and evaluates insurance industry motives for reducing global warming emissions in the state. Report >> More about Eban Goodstein >> More about Bob Doppelt >>

Antarctica Is Undergoing An Extraordinary Melt. Article by Reese Halter. Like a snowball released from the top of the mountain, gaining momentum as it descends, Earth's record-breaking heat is melting Antarctica at a stunning rate. The area of sea ice surrounding Antarctica is the lowest since the inception of continuous record keeping began in 1979, and it's still tumbling. In May, 2016, the massive West Antarctic ice sheet began tearing apart. Article >> More about Reese Halter >>


Changing The Climate. Interview with Denis Hayes. Hayes answers questions about how to mobilize Americans to take up climate change as a top-tier issue, the politics of oil, the prospects of solar energy, and optimism for the future. Interview >> More about Denis Hayes >>

Climate Change Bill Fails to Address Indigenous Rights. Interview with Tom Goldtooth. Goldtooth has been an environmental leader for Native American's for over three decades. He talks with Democracy Now! about how climate change legislation fails to protect their communities from environmental degradation. Interview >>

Climate Control Would Save Millions Of Lives. Article from EcoIQ Magazine. Based on findings published in The Lancet -- the world's oldest medical journal -- the Working Group on Public Health and Fossil-Fuel Combustion predicts that hundreds of thousands of lives could be saved annually, an estimated 8 million by the year 2020, if climate control policies were adopted worldwide. More…

Communicating Climate Change: Getting Beyond the Usual Suspects. Article by Christine Ervin. What was true ten years ago when this article was written remains just as true today: "Despite encouraging polls and myriad climate initiatives, there remains a yawning chasm between general awareness and sustained actions. Moreover, too many still perceive climate change as smacking of advocacy or political ideology, or at the least, distant from their own sphere of influence." Article >> More about Christine Ervin >>

Gasp! The Swift & Terrible Beauty of Air. Book excerpt by Joe Sherman. Gasp! (Buy Here >>) is an investigation of air and of how it works in the body and in our world. Learn why over the last two centuries air has been transformed from something marvelous into something menacing. Blends the history and myths of air together with its environmental and physiological effects. Book Excerpt >> Buy Here >> More about Joe Sherman >>

Global Warming: The Tip Of The Iceberg. Presentation by Ross McCluney. McCluney describes the big picture issue of climate change, specific problems we face, and action strategies we need to adopt to solve them. Presentation >> More about Ross McCluney >>

Implications Of Climate Change For Alaska's Seabirds. Article by George Divoky, et al. Seabirds are prominent and highly visible components of marine ecosystems. As prey availability changes in response to climatically driven factors such as surface sea temperature and extent of sea ice, so will populations of seabirds be affected. Article >> More about George Divoky >>

The Meat Of The Matter: The U.S. Livestock Industry Creates More Greenhouse Gas Than Transportation. Article by Jim Motavalli. Ask most Americans about what causes global warming, and they'll point to a coal plant smokestack or a car's tailpipe. They're right, of course, but perhaps two other images should be granted similarly iconic status: the front and rear ends of a cow. Article >> More about Jim Motavalli >>

Oregon And Global Warming. Article by Bob Doppelt. A group of economists led by former World Bank chief economist Sir Nicholas Stern released the most definitive analysis of the global economic impacts of climate change yet produced. The group's findings included bad and good news. Both have important implications for Oregon. Article >> More about Bob Doppelt >>

Toxic Tar Sands Cooking Our Planet. Article by Reese Halter. On February 24, 2018, the mercury at the Cape Morris Jesup weather station, northern Greenland, soared to 43 degrees (F), 70 degrees above normal – unprecedented. During that month, temperatures in northern Greenland were above freezing for 61 hours, three times the number of hours in any previous year. Terrifying. Article >> More about Reese Halter >>

Unburnable Fuels: Removing Reserves From The Balance Sheet. Article by Micha Tomkiewicz. Several recent reports suggest that markets are now overlooking the risk of 'unburnable carbon.' The share prices of oil, gas and coal companies depend in part on their reserves. The more fossil fuels a firm has underground, the more valuable its shares. But what if some of those reserves can never be dug up and burned? More…
An additional collection of articles on Air Quality & Climate Change related issues is available from The EcoIQ Magazine here.

Conference & Campus Speakers On
Climate Change & Global Warming Here >>