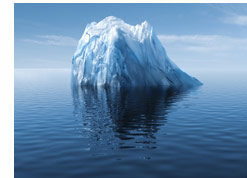 This section focuses on climate change and global warming and its specific social, economic, political, and environmental impacts. It includes articles, reports, interviews, book and anthology excerpts, PowerPoint presentations, and presentation transcripts.
Climate change is the challenge of the century facing people and the planet. Most scientists agree that carbon emissions from our fossil fuel based economy are a significant cause of global warming. Rising temperatures are causing glaciers to melt, sea levels to rise, violent storms, mega-fires, droughts, coral bleaching, and more. These changes are having a major impact on food supply, availability of fresh water, and human health and safety, not to mention the devastating effects to many species and habitats. Through collective political, corporate, and societal action worldwide, we have the opportunity to turn the tide on climate change by investing heavily in renewable energy sources, resource conservation, transportation alternatives, green building technologies, and other carbon emission reducing measures.

Conference & Campus Speakers On
Climate Change & Global Warming Here >>

Global Warming: The Tip Of The Iceberg. Presentation by Ross McCluney. McCluney describes the big picture issue of climate change, specific problems we face, and action strategies we need to adopt to solve them. Presentation >> More about Ross McCluney >>

Cities For Climate Protection. Presentation by Denis Hayes. In this keynote to an ICLEI Cities for Climate Protection Conference, Hayes connects the dots between climate change, carbon-neutral energy sources, and the role of cities in solving this global problem. Presentation >> More about Denis Hayes >>

The Economic Impacts Of Climate Change In Oregon. Presentation by Bob Doppelt. Doppelt discusses the findings of a group of thirty-fives scientists, economists and resource specialists who came together to examine the socio-economic consequences of climate change on Oregon and the Pacific Northwest. Presentation >> More about Bob Doppelt >>

The Economic Case For Climate Action. Article by L. Hunter Lovins. Far from the crushing cost that some have called the price of climate protection, investment in using energy more productively and the unleashing of the new energy economy will deliver impressive returns. Article >> More about L. Hunter Lovins >>

Changing The Climate. Interview with Denis Hayes. Hayes answers questions about how to mobilize Americans to take up climate change as a top-tier issue, the politics of oil, the prospects of solar energy, and optimism for the future. Interview >> More about Denis Hayes >>

Tailpipe Revolution. Article by Roger Ballentine and Jan Mazurek. Instead of haggling over CAFE standards and a distant hydrogen future, we should use strong market incentives like tailpipe emissions trading to put more clean cars on the road today. Article >> More about Roger Ballentine >>

Implications Of Climate Change For Alaska's Seabirds. Article by George Divoky, et al. Seabirds are prominent and highly visible components of marine ecosystems. As prey availability changes in response to climatically driven factors such as surface sea temperature and extent of sea ice, so will populations of seabirds be affected. Article >> More about George Divoky >>

Using A "Staged Approach" To Change To Design Global Warming Communications. Article by Bob Doppelt. The first key to successful climate protection and sustainability efforts is to know the mindset of your target audience and match your message accordingly. Article >> More about Bob Doppelt >>

Biofuels Vs. Food Crisis Underscores Need For New Climate Change Strategy. Article by Bob Doppelt. The European Union's recent attempt to salve the wounds of rising food prices and social unrest caused by its rush to promote biofuels once again unveils the dangers of using traditional thinking to resolve global warming. Article >> More about Bob Doppelt >>

Abrupt Climate Change And The Economy: A Survey With Application To Oregon. Report by Eban Goodstein and Bob Doppelt. This report outlines the possibilities for an abrupt climate change scenario, which would have potentially catastrophic impacts for Oregon's economy, and evaluates insurance industry motives for reducing global warming emissions in the state. Report >> More about Eban Goodstein >> More about Bob Doppelt >>

Oregon And Global Warming. Article by Bob Doppelt. A group of economists led by former World Bank chief economist Sir Nicholas Stern released the most definitive analysis of the global economic impacts of climate change yet produced. The group's findings included bad and good news. Both have important implications for Oregon. Article >> More about Bob Doppelt >>

California Focus: State Faces Bone-Dry Forecast. Article by Reese Halter. From megadroughts to megafires, this article explains how climate change is making a significant impact on California's people and the environment. Article >> More about Reese Halter >>

Climate Change Bill Fails to Address Indigenous Rights. Interview with Tom Goldtooth. Goldtooth has been an environmental leader for Native American's for over three decades. He talks with Democracy Now! about how climate change legislation fails to protect their communities from environmental degradation. Interview >>
An additional collection of articles on Air Quality & Climate Change related issues is available from The EcoIQ Magazine here.

Conference & Campus Speakers On
Climate Change & Global Warming Here >>