Sustainability
Land Use
Air & Atmosphere
Water & Wastewater
Energy
Transportation
Wastes & Recycling
Toxics & HAZMAT
Pollution Prevention
Green Building
Urban Greening
Conserving Built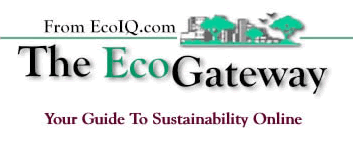 elcome to The EcoGateway. This guide to online resources serves the information and communication needs of individuals and organizations working to protect our environment and create a sustainable future. It contains links to more than 5,000 web sites and pages.

C o n t e n t s

he EcoGateway is organized to facilitate finding materials either by type of link (see sections immediately below) or by topic (see the EcoGateway sections of the topic home pages accessible in the left column below or from the navigation section).

The Link Center

The Link Center features links to home or section index pages organized by topic and subtopic and then by type of organization. A good example of topic and subtopic organization may be found in the Energy section. More... EcoIQ.com also offers a portal of resources for video producers here.

Directories

Twenty directories are offered, including news, information, media producers, education, training and teaching resources, kids' sites, online stores, web development tools, and research resources and tools. More...

Anthologies

The Anthologies section includes links to articles from magazines and newspapers, book excerpts, presentation and interview transcripts, PowerPoint presentations, and all types of reports and studies. More...
H e l p E c o I Q . c o m S u c c e e d

Link To EcoIQ.com, The EcoGateway, EcoIQ Magazine & EcoSpeakers.com
Conference & Campus Speakers On
Sustainability & Environment Here >>
Green Your Meetings & Events >>
Check Out EcoSpeakersí Bookstore >>
Check Out EcoSpeakers' Portal >>
The Link Center | Directories | Anthologies
Comprehensive Site Home | EcoIQ Magazine | EcoGateway
About EcoIQ.com | Navigating EcoIQ.com | Cont@ct Us
EcoSpeakers.com | EcoSpeakers Books | EcoIQTV.com
© Copyright 1999-2018 EcoIQ


Planet Ark
Env. News Service
Envirolink News
Env. News Network
PlannersWeb
ENDS Europe
Mother Earth News
CSRwire
Grist Magazine
EcoIQ Magazine
Planetizen News
Care2 News
SustainableBusiness
GreenBiz
Home Power Magazine
Solar Today Magazine

GreenTreks Network
OneWorld UK
EcoIQTV.com
Earthwatch Radio
Living On Earth
Pulse of the Planet
Sustainable Energy TV
EcoIQ.com Audio

350.org
Climate Action Network
Earth Policy Institute
Worldwatch Institute
World Resources Inst
Earth Day Network
New Dream
Res Renewal Inst
Global Change Dir
Sustain Comm Net
EcoIQ.com Articles

New York Times
Washington Post
Los Angeles Times
Wall Street Journal
Christian Sci Mon
USA Today
Associated Press
Reuters
AllSides
Newsweek
Time
U.S. News
ABC News
CBS News
NBC News
CNN
MSNBC
The News Hour
NPR
C-SPAN