Ultimate Guide To Muni P2 Legislation
The National Pollution Prevention Roundtable has assembled a web resource which examines the different ways municipalities have incorporated pollution prevention into their environmental management strategies. Local governments can use this site as a tool for the comparison of their pollution prevention legislation to that of other local governments, and as starting point for considering new P2 laws.
Eighteen local agencies are profiled, with standard information presented. Each profile includes the definition of pollution prevention used by that locality, its P2 numeric goals, the local assistance programs offered as a part of the effort, reporting requirements, incentives offered, and the source of funding of the program. Visit at http://www.p2.org/locgovt.htm.
---
A new DOE website provides all the news that's fit to print on sub-compact fluorescent lamps. It provides technical specifications, product descriptions, prices, ordering and supplier information, warranty information, and data about savings and environmental benefits. To check it out, visit http://www.pnl.gov/cfl.
---
New Environmental Products Catalog Online
The Defense Logistics Agency of the Department of Defense (DOD) has developed a new Environmental Products Catalog. While created for the DOD, this catalog contains product information that may be useful for local and state governments or business organizations.
The catalog lists hundreds of environmental products ranging from citrus-based degreasers to complete antifreeze recycling systems. Using the listed products can help reduce hazardous waste, eliminate ozone-depleting chemicals, protect employees, and save money. Visit at http://www.dscr.dla.mil/PRODUCTS/EPA/Eppcat.htm.
---
Waste Minimization National Plan
A new web site from the EPA promoting waste minimization is now online. The site includes sections on getting started, resources and links, success stories, tools, downloadable products and documents, and mailing lists and listservs. To check it out, visit http://www.epa.gov/wastemin.
---
EPA offers a treasure trove of information about energy efficient office equipment on its Energy Star web site. Information on purchasing and operating energy efficient computers, printers, and copiers is included, as well as facts and figures about the energy, economic, and environmental benefits of using efficient office equipment. Visit at http://www.epa.gov/appdstar/esoe/news.html.
---
The Green Design Network web site now includes reviews of the best new books on green design and building. Network staff pick and review new books and outline their content and value in brief sketches. A link is included to the Green Bookstore where the books may be ordered online. Visit at http://www.greendesign.net/bookrevs/index.html.
---
Cities heat up their immediate environments, and this in turn increases their summertime energy use, air pollution, and greenhouse gas emissions. Lawrence Berkeley National Laboratory (LBNL) offers a web site with solutions, from making surfaces reflect more heat to planting cooling vegetation. Visit the site at http://EETD.LBL.gov/HeatIsland.
---
For those seeking information on the health effects of building, furnishing, and home maintenance materials, there are a couple of books available from The Healthy House Institute which offer help: The Healthy House: How To Buy One, How To Build One, How To Cure A Sick One by John Bowers, and The Healthy House Answer Book: Answers To The 133 Most Commonly Asked Questions by John and Lynn Marie Bower.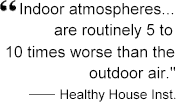 These books provide in-depth descriptions for all types of products used in home construction, furnishing, and maintenance. Readers will also find research information and an extensive list of suppliers offering healthier alternatives.
The majority of all home-related health problems are caused by poor air quality, in other words, indoor air pollution. Two escalating trends have combined to create indoor atmospheres that are routinely 5 to 10 times worse than the outdoor air. The first of these trends involves tighter construction for increased energy efficiency. The second is the use of more synthetic and man-made building materials. Many of these types of products outgas (release into the air) irritating, mutagenic, and carcinogenic chemicals. Potent outgassers often include carpeting, particle board, glues, and paints.
Either or both books can be ordered directly from The Healthy House Institute. ($3.00 shipping for a single copy, Indiana residents add 5% sales tax.) To order, visit http://www.hhinst.com/orders.html. They may also be ordered through bookstores.
The Healthy House: How To Buy One, How To Build One, How To Cure A Sick One. ISBN 0-9637156-0-7, 672 pages, $23.95.
The Healthy House Answer Book: Answers To The 133 Most Commonly Asked Questions . ISBN 0-9637156-4-X. 192 pages, $8.95.
---
Experimental Indicators Benchmark Sustainable Development
Too often, according to David Berry, the "connections among the economy, environment and society tend to be ignored or forgotten" when development decisions are made. Berry, who serves as the Executive Director of the U.S. Interagency Working Group on Sustainable Development Indicators, explains that decisionmakers "see measures of the environment, economic indicators and social data all in separate reports" and important connections may thus be overlooked.
A report using 40 experimental indicators for measuring sustainable development has been posted online. To review this report, visit http://www.sdi.gov. Comments and suggestions are welcome.