In the new book Cities on the Rebound: A Vision for Urban America, author William Hudnut draws on his experience as the four-term mayor of Indianapolis, as a former Congressman, and as president of the National League of Cities to provide local public officials, planners, real estate professionals, environmentalists, and citizens with his insights on America's cities and how to make them better.
The book includes Hudnut's ideas for dealing with diversity, encouraging sustainable development, finding alternatives to sprawl, managing technological change, promoting regional collaboration, improving government efficiency, and more. As a fellow of the Urban Land Institute who has spent his career in the quest to revitalize cities, Hudnut delivers realistic ideas for the leaders who are shaping urban America.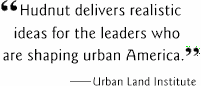 "In this book," writes Hudnut, "I try to craft a vision for the successful city of the future. My aim is to offer readers a few strategies for getting cities on the road to recovery as we turn the corner into the new century. My intention is to offer guidance rather than definitive answers, suggestions rather than blueprints. I am a practitioner of the game of politics and the art of 'cityship'óthat is, partnership with, stewardship of, citizenship in, the city. I have tried to frame a vision for urban America that is shaped by concrete examples from my own experiences in Indianapolis and elsewhere."
To order a copy of Cities on the Rebound: A Vision for Urban America, call 800-321-5011. The cost for Urban Land Institute members is $21.95. The nonmember price is $26.95.
---
Federal Government Energy Waste
Taxpayers could save $1 billion annually and see a significant reduction in air pollution and greenhouse gas emissions (7 million tons of carbon dioxide) if the federal government adhered to the Energy Policy Act and executive orders that require agencies to reduce energy waste through improved energy productivity, reports the Alliance to Save Energy and a task force of 50 energy companies and organizations.
Examining energy use by the federal government, the nationís largest energy user, the Alliance and the task force spent more than two years researching information for a major new report, Leading By Example: Improving Energy Productivity in Federal Government Facilities.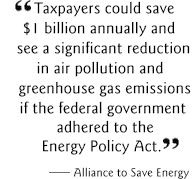 "How can the federal government expect businesses and others to meet climate change targets when itís not setting the right example?" questioned Alliance to Save Energy President David M. Nemtzow.
"Reducing the federal governmentís massive energy waste offers enormous opportunities to save taxpayers billions of dollars for decades to come and improve the environment," said Senator Jeff Bingaman (D-NM), senior Democrat on the Senate Energy and Natural Resources Committee and co-chair of the Alliance. "Weíre starting to make progress, but thereís no excuse for this much waste when leading companies in the U.S. energy-efficiency industry are willing to provide the money for improvements at no up-front cost to taxpayers."
While the federal government claims to have reduced energy use 14.2 percent per gross square foot between 1985-95, the Allianceís analysis indicates that energy use actually went up 2.7 percent per gross square foot when all government buildings and energy use are counted. Unlike federal government calculations, Leading By Example includes energy-intensive buildings and accounts for energy consumed in the generation and distribution of power in federal facilities.
The federal government, which consumes about 32 percent more energy per square foot than the nationís building stock at large, spends $4.2 billion per year to power and fuel half a million buildings and facilities. With an investment of $4.7 billion in energy-saving products over the next eight years, taxpayers would save $1 billion annually for decades to come.
"Federal agencies have clearly made some progress, but they have only started to tap the opportunities," said Jared O. Blum, president and chief executive officer of the Polyisocyanurate Insulation Manufacturers Association and co-chair of the Allianceís Federal Energy Productivity Task Force.
"The fundamental problem is Cabinet secretaries arenít doing their job," said Alliance Vice President Mark Hopkins. "I think the President is as frustrated as we are. Thatís why he ordered them to prepare strategic plans in July. They were to be done by now. Where are they?"
"If major oil companies can commit to deeper and faster reductions of greenhouse gas emissions than called for by the Kyoto agreement, then the federal government should certainly be able to at least match them," Nemtzow said. "The U.S. government must lead by example."
For more information on Leading by Example, visit the Alliance web site at http://www.ase.org/femp or contact Rozanne Weissman at 202-530-2217 or Louise Muniak at 202-530-2203.
---
Smart Growth: Economy, Community, Environment
What is smart growth, and how can it change the way urban areas are planned and developed? Determining strategies for growing smarter is the focus of the 1998 edition of the Urban Land Institute On The Future Series. Smart Growth: Economy, Community, Environment is the sixth of these annual studies.
Articles include: "Smart Growth in Our Future?" by Geoffrey Anderson and Harriet Tregoning; "Smart Transportation for Smart Growth" by Don H. Pickrell; "The Case for Higher-Density Housing: A Key to Smart Growth?" by Karen A. Danielsen and Robert E. Lang; "The States: Growing Smarter?" by Douglas R. Porter; "Smart Growth and Regional Cooperation" by Linda E. Hollis; and "Smart Growth for Center Cities" by David C. Petersen.
To order a copy of Smart Growth: Economy, Community, Environment, call the Urban Land Institute at 800-321-5011. The member price is $19.95 and the nonmember price is $24.95.
---
Design Charrette For Sustainable Urban Landscapes
Sustainable Urban Landscapes: The Surrey Design Charrette shows how communities can be designed for sustainability. The result of a charrette project in Surrey, British Columbia, the book details four designs for a 400-acre site. Each was developed to illustrate sustainable design policies.
For more information, contact Patrick M. Condon, Landscape Architecture Program, University of British Columbia, Suite 248-2357 Main Mall, Vancouver, B.C., Canada V6T 1Z4. Phone 604-822-9291 or e-mail pcon@unixg.ubc.ca.
---
Study Circle Guide Helps Communities Explore Development Alternatives
A new guide, Smart Talk for Growing Communities: Meeting the Challenges of Growth and Development, helps communities explore the effects of growth in diverse places. It is intended for use in study circles, which offer citizens an opportunity to consider a range of views and solutions, to explore differences, and to identify different ways to tackle community problems.
For more information, contact Patrick Scully at 202-393-1441 or by e-mail at congex@congex.org, or Matt Leighninger at 860-928-2616 or by e-mail at scrc@neca.com.
---
Report On Sustainable Communities
The Minnesota Roundtable on Sustainable Development has published Sustainable Communities: A Committee Report of the Round Table on Sustainable Development. The report identifies practical sustainable development tools for communities, and recommends ways to encourage sustainable development planning and implementation at the local level. It contains chapters on the benefits of sustainable development, characteristics of sustainable communities, measuring sustainability, and barriers to sustainable communities.
To download, visit http://www.mnplan.state.mn.us/press/comm.html.
---
1999 National Green Pages Released
Co-op America has published its 1999 National Green Pages. It is available in both paper and electronic versions, and it identifies more than 10,000 socially and environmentally responsible products and services. The Green Pages also include tips on green products, green business, green living, green cleaning, and green investing.
For more information, visit http://www.coopamerica.org/gp.
---
Guide To Resource Efficiency In Public Buildings
The U.S. Federal Energy Management Program has compiled a resource guide titled Greening Federal Facilities. It is focused on increasing energy and resource efficiency, reducing waste, and improving the performance of public buildings and facilities.
The guide is available online at http://www.eren.doe.gov/femp/greenfed/, or it can be ordered by calling 800-363-3732.