As EcoIQ Magazine enters its fourth year of online publication, we will pause to look back at some of the more significant and interesting Reviews of the last twelve issues…
---
Successful Sustainable Land Development
A new book entitled The Practice of Sustainable Development has been released by The Urban Land Institute. It explains how to develop sustainable projects that are financially feasible,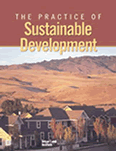 and it contains examples, practical techniques, and solutions -- proven ideas that can be used to make almost any project both sustainable and successful.
The Practice of Sustainable Development contains chapters discussing the concept of sustainable development and the relationships between sustainable development and ecology, economic development, and social equity. Specific topics covered include site design, financing, building systems, marketing, and approval processes.
---
A new and innovative website, Renewing the Countryside, has been developed to showcase successful communities across the Great Plains.
With yet another farming crisis taking its toll on the rural Great Plains, communities and their people are looking for new alternatives that will

provide both a viable and vital future. The Great Plains Institute for Sustainable Development, in collaboration with the Northern Great Plains Initiative for Rural Development and the Institute for Agriculture and Trade Policy, has built an interactive website that identifies vital communities and the individual and cooperative efforts that have made them thrive.
The site captures in pictures and words examples of Great Plains communities that are putting their initiative and landscapes to work to produce quality products and services while providing families with income, building stronger local economies, preserving the natural environment, and improving the quality of life.
The Great Plains Institute for Sustainable Development is a nonprofit organization dedicated to serving the citizens of the Great Plains across many borders as they wrestle with issues affecting the long-term viability of their communities, the productivity of their economic enterprises, the quality of their environment, and the prudent management of their resources.
---
Sustainable Building: Green By Design

This educational multimedia CD-ROM introduces sustainable building practices using interactive video. In addition, Green by Design also includes a comprehensive 45-page color publication as well as many other useful informational resources. Co-produced by the Texas Environmental Center and the City of Austin (with a grant from the Department of Energy), the CD is free to schools and libraries in Central Texas and available nationally from DOE. For more details, call 512-505-3702 or visit http://www.tec.org/gbcd.jpg.
---
Click to Protect Wild Lands & Plant Trees
You can conserve Amazon rainforest, help build national parks and nature preserves in East Africa, Mexico, Scotland, Canada, Patagonia, or the United States,

support treeplanting programs, and more at EcologyFund.com.
EcologyFund is owned and operated by CharityMall.com as a way to get new funds for critical habitat and wilderness preservation using the power of the internet. When you "click to donate," sponsors pay the project you select to preserve the number of square feet shown by each project. You pay nothing. To maximize the donation, click on each project every day. If you register, CharityMall will donate 500 square feet of wilderness in your name, and will keep a running tally for you of all the land you have preserved. All funds from sponsorships generated on EcologyFund.com go to purchase and protect wild lands.
---
Toxic Brew Endangers World Water Supply
Toxic chemicals are contaminating groundwater on every inhabited continent, endangering the world's most valuable supplies of freshwater, reports a new study from the Worldwatch Institute. This first global survey of groundwater pollution shows that a toxic brew of pesticides, nitrogen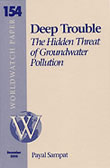 fertilizers, industrial chemicals, and heavy metals is fouling groundwatereverywhere, and that the damage is often worst in the very places where people most need water.
"Groundwater contamination is an irreversible act that will deprive future generations of one of life's basic resources," said Payal Sampat, author of Deep Trouble: The Hidden Threat of Groundwater Pollution. "In the next 50 years, an additional 3 billion people are expected to inhabit the Earth, creating even more demand for water for drinking, irrigation, and industry. But we're polluting our cheapest and most easily accessible supply of water. Most groundwater is still pristine, but unless we take immediate action, clean groundwater will not be there when we need it."
For more information, visit http://www.worldwatch.org/topics/water.html.
---
A new online report from the Sierra Club, Sprawl Costs Us All: How Your Taxes Fuel Suburban Sprawl, analyzes subsidies

"We've subsidized sprawl at such a basic level for so long, that many people believe the status quo is actually fair and neutral."

including building new roads and schools, extending sewer and water lines, providing emergency services, and direct pay-outs to developers.

"Sprawl is draining our pocketbooks and raising our taxes," the report explains. "Sprawl is the result of over five decades of subsidies paid for by the American taxpayer.... We've subsidized sprawl at such a basic level for so long, that many people believe the status quo is actually fair and neutral. This is false -- what we think of as a level playing field is tilted steeply in favor of sprawling development."

The report includes chapters on roads and highways, schools, utilities, emergency services, corporate subsidies, and solutions. It offers cases studies and suggests solutions involving policies to promote smart growth -- which it defines as "well-planned development that channels growth into existing areas, provides public transportation options, and preserves farm land and open space."
---
Urban Waterways Restoration Video
Urban Stream Restoration is a one hour video tour of six urban stream restoration sites led by Ann Riley, a nationally known stream restoration professional and executive director of the Waterways

Restoration Institute. It includes solid practical information about how the projects were funded and organized as well as the history and principles of restoration.
The video includes useful guidelines on recreating stream shapes and meanders, creek daylighting, soil bioengineering, and ecological flood control projects.
This information makes the video useful to engineers, landscape architects, biologists, water managers, community groups and decision makers - anyone interested in ecological urban stream and neighborhood restoration.
To order Urban Stream Restoration - now available on both VHS & DVD - visit http://www.urbanstreamrestoration.com.
---
To compliment the work it performs with a wide variety of industries, the World Bank Group has released pollution prevention guidelines that it says constitutes the most comprehensive attempt to date to provide industry with practical advice on how to reduce pollution in a wide range of sectors.
For more information, click here.
---
Ultimate Guide To Muni P2 Legislation
The National Pollution Prevention Roundtable has assembled a web resource which examines the different ways municipalities have incorporated pollution prevention into their environmental management strategies. Local governments can use this site as a tool for the comparison of their pollution prevention legislation to that of other local governments, and as starting point for considering new P2 laws.
Eighteen local agencies are profiled, with standard information presented. Each profile includes the definition of pollution prevention used by that locality, its P2 numeric goals, the local assistance programs offered as a part of the effort, reporting requirements, incentives offered, and the source of funding of the program. Visit at http://www.p2.org/locgovt.htm.
---
"Distributed Energy" Task Force News

The weekly newsletter Distributed Energy Resources (DER) is now available online. It is produced by DOE's Energy Efficiency and Renewable Energy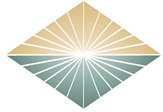 Network as part of the work of the DER Task Force. The Task Force, established earlier this year, is working to enhance the effectiveness of DER research, development, demonstration, education, and implementation activities. It is promoting uniform grid interconnection standards, streamlined environmental siting and permitting, and equitable utility policies to open competitive markets.

Distributed energy is usually produced at or near the end user, and often involves partnering with industry to apply a wide array of technologies. Many of the distributed energy technologies are cleaner and more reliable than conventional centralized production, and as such reduce pollution and greenhouse gas emissions, enhance electric grid operations, boost local economic development, and increase energy and economic efficiency.

To access the newsletter, visit http://www.eren.doe.gov/der.
---
New Cars Ranked for Environmental Impact
ACEEE (The American Council for an Energy-Efficient Economy) has released its annual report, the Green Book, which ranks new cars by environmental impact. According to the Council, the several new hybrid cars released this year are "the first truly next generation green technology." For more details, visit http://greenercars.com.
---
Solid Waste Resources on CD ROM
The EPA has an excellent CD ROM of solid waste related resources available at no charge. The CD contains many informative articles and other resources organized

into 18 topics -- ranging from buying recycled to municipal solid waste management to public participation.
Copies can be ordered from the RCRA Docket Information Center at 703-603-9230. The e-mail address is rcra-docket@epa.gov. Request publication number EPA 530-C-99-002. For more details online, visit http://www.epa.gov/epaoswer/osw/cdoswpub.htm.
---
A new downloadable maintenance tracking system is now available from North40 Software. Called KeepItUp!, the software helps users manage the maintenance of a wide range of equipment and tools.
Among other features, it will assist with:
Organizing service and expense history data.
Storing technical reference data.
Tracking scheduled maintenance.
Forecasting future maintenance costs.
Use of such systems can lower operating costs, improve operating performance and reliability, and extend equipment life. To check it out, visit http://www.north40software.com/page6.htm. For a preview with screen captures, visit http://www.north40software.com/page9.htm.
---
Putting The Pressure On E-Waste

A creative example of internet lobbying can be seen on the websites of The GrassRoots Recycling Network and the Silicon Valley Toxics Coalition. These two organizations have joined forces to pressure the manufacturers of computer products to take more responsibility for their old equipment. The problem, as they describe it, is serious but fixable:
"Electronic waste is a growing problem through out the world, and electronics recycling is not working. More than 12 million computers are scrapped every year in the U.S.

"Because computers contain more than 1000 materials, many of which are hazardous, if dumped in landfills, chemicals will leach out of the computers, endangering groundwater and putting he health of local communities at risk. If incinerated, they can generate toxic emissions, such as dioxins.

"The computer industry can clean up. Computers can be safely recycled. But only if consumers demand it."
To add your voice to their campaign, click here.
---
Driven to Spend, a report by the Surface Transportation Policy Project and the Center for Neighborhood Technology, analyzes government data on consumer expenditures, ranking 28 major metro areas by the portion of the family budget devoted to daily transportation costs.
Individuals spend five times as much of their own money on transportation as governments spend on their behalf - nearly 19 percent of the average family budget. In some areas, more than 22 percent of household spending goes for transportation, in others, only 15 percent. The bottom line - the average American family living in a highly sprawling area can pay thousands of dollars more per year for transportation than families in less sprawling communities.