The Department of Energy has released a next generation building energy simulation computer program, EnergyPlus, that allows architects, engineers, building owners, and building managers to minimize energy use and cost and optimize building performance by simulating building energy use. The EnergyPlus program is a significant step beyond earlier Department

of Energy (DOE) software, which building owners and designers have used to save an estimated $20 billion.
EnergyPlus dramatically improves the simulation of whole-building approaches in design, planning and construction and opens new doors for energy savings, cost savings and indoor environmental quality. It allows users to calculate the impacts of different heating, cooling and ventilating equipment and various types of lighting and windows to maximize building energy efficiency and occupant comfort. Users can simulate the effect of window blinds, electrochromic window glazings, and complex daylighting systems, features not seen in earlier DOE software.
EnergyPlus can be downloaded at no cost here.
---
The Smart Growth Challenge PowerPoint Presentation
A PowerPoint presentation is now available online to download and use for group presentations about smart growth. Prepared by the North Carolina chapter of the American Planning Association (NCAAP), the presentation may be modified to add materials focusing on other states. It was developed to support the NCAAP Smart Growth Challenge project, an effort to spread the word about smart growth in North Carolina and gain feedback from citizens and community groups. It includes an explanation of smart growth, examples in North Carolina, and an explanation of the potential benefits and impacts of growth.
For more information or to download the Smart Growth Challenge PowerPoint Presentation, click here.
---
"Dashboard of Sustainability" Software
The "Dashboard of Sustainability" is a software program that functions as a kind of instrument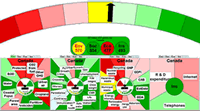 panel designed to inform decision makers, the media and the general public about the status of a nation's progress toward, or away from, sustainability. Data on each of the 46 component indicators, as well as on the three cluster indices and the overall sustainability index, are presented in an animated version of the Dashboard. To check it out, click here.
---
An online report from Seattle Public Utilities provides a detailed description of the ecological approach to lawn care. It includes a review of the scientific literature that supports a change from traditional chemical-intensive practices, an annotated bibliography that reviews source documents useful to residents, landscape professionals, and public resource managers, and practical recommendations for ecologically sound lawn care in the region west of the Cascade mountains. It was assembled from interviews with turf scientists and professionals.
The benefits of ecologically sound lawn care, according to this report, include:
Reduced water use, waste generation, and water pollution.
.
Reduced mowing time and fertilizer needs, and improved turf color, quality, and density.
.
Enhanced resistance to diseases and weed invasion.
.
Improved nutrient availability, and less soil compaction, acidification, and thatch buildup.
To review the complete report, click here.
---
California's 20/20 Rebate Program offers a 20 percent rebate on June through September 2001 electricity

bills for customers of Pacific Gas and Electric, San Diego Gas and Electric, and Southern California Edison who use at least 20 percent less electricity than they consumed from June through September during 2000. The 20% Solution site identifies energy efficiency measures and their predicted percentage savings to help meet the 20/20 challenge. To visit The 20% Solution site, click here.
---
Key To Relieving Commuter Misery: Transit
A groundbreaking analysis of newly released data shows that road building has done little to ease congestion, while transit service is significantly lessening the burden of congestion on many commuters. A new ranking developed by the Surface Transportation Policy Project (STPP) shows how the average commuter is affected by both congestion levels and the availability of transit in 68 U.S. cities.
"The misery inflicted by traffic congestion is not the same everywhere," said Roy Kienitz, Executive Director of STPP. "The places where commuters suffer most are the ones with the fewest transportation choices."
STPP analyzed data collected by the Texas Transportation Institute for its annual Urban Mobility Study and found that metro areas that added the most roads have had little success in easing congestion. But metro areas with good transit service rank significantly lower on the new Congestion Burden Index. For more details from the STPP website, click here. For information about the Texas Transportation Institute's Urban Mobility Study, click here.
---
"Sprawling of America" Videos Available
The Great Lakes Television Consortium, in association with producer Christopher M. Cook, is distributing a two part video documentary on the effects of sprawl in America entitled The Sprawling of America. "Across the nation, urban downtowns are being redeveloped. Despite this, people, tax revenue, and jobs continue to exit cities," explains the distributor, "making the United States the first society to have a greater

number of people living in suburbs than in either cities or rural areas."
Part One, Inner City Blues, examines the social, political, and economic causes of sprawl and urban decline. Part Two, Fat of the Land, explores the direction in which suburbs are headed, and their impact on rural areas, agriculture, and small towns. To view the programs online, view excerpts, buy the programs, or explore background information developed in the course of producing the documentary, visit the Consortium website here.
---
A traveling exhibit on green design and building - developed by the Architectural League of New York and entitled Ten Shades of Green - is currently touring major U.S. cities. The buildings included in the exhibit were chosen, in the words of curator Peter Buchanan, because "they are complete works of architecture: buildings in which environmental responsibility is fully integrated with formal ambition and responsiveness to an enlightened vision of community life."
Ten Shades of Green will be on display at the Berkeley Art Museum in Berkeley, California in October and November of this year. In 2002, it will be in Salt Lake City, Utah from January through March, in Orange County, California from April through June, and in Santa Fe, New Mexico from July through September.
For more information on the exhibit, including schedule details and a specific explanation of the environmental issues it illustrates, click here.
---
Sustainable Practices Newsletter
Starting in October 2000, David Schaller, who is the EPA Region 8 sustainability expert, began a weekly newsletter that chronicles noteworthy events that can be loosely grouped under the heading of

"sustainable practices." The newsletters were originally intended for distribution within EPA, Region 8. However, many of the original recipients shared their newsletters with friends and colleagues, who in turn asked to be included on the mailing list. Based on the growing number of requests, the newsletters are being added to Region 8's Sustainable Development web page. To check them out, click here.
---
Eco-Industrial Development Strategy Guide
"A growing number of communities in the U.S. and internationally are considering eco-industrial development (EID) strategies," according to a new report from the U.S. Economic Development Administration and Cornell University. At the root of the concept, the report finds, is "an emphasis on fostering networks among businesses and communities to optimize resource use and reduce economic and environmental costs. The eco-industrial concept encompasses a range of approaches, including pollution prevention, byproduct exchange, green design, life cycle analysis, joint training programs, and public participation."
The report, Eco-Industrial Development: A Strategy for Building Sustainable Communities, defines the concept, summarizes a range of applications, reviews the applicable literature, describes benefits and challenges, and assesses a range of strategies and best practices for implementation. For the full report, click here.
---
The World Resources Institute (WRI) has launched SafeClimate.net, a web site where visitors can take action to address global warming. The site challenges individuals and organizations to calculate the size of their own carbon dioxide footprint and pledge to reduce it by taking one or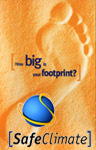 more actions outlined on the site. According to climate scientists, CO2 emissions from human activities are the largest source of greenhouse gases contributing to global warming.
"We don't have to wait for our government to lead. SafeClimate.net provides the opportunity for concerned citizens and organizations to do their part and demonstrate their concern on this issue," said Jonathan Lash, WRI president. "Every step toward carbon reduction is a meaningful one in reducing the threat of global warming." Visit SafeClimate.net.
---
A new report from the Transportation Research Board, Making Transit Work, identifies practices and policies employed in Western Europe and Canada to promote the use of public transportation. Why is transit use so much higher in these countries than in the United States? What could be done to increase U.S. transit use? These and related questions are addressed in depth by this report from the Transportation Research Board. To review the complete report, click here.
---
What Does 'Smart Growth' Really Mean?
Can groups as different as homebuilders and transit advocates be using the term "smart growth" in the same way? The answer is no - prompting one expert to offer advice about how to resolve deep conflicts. In this insightful article from Planning Magazine, Anthony Downs of the Brookings Institute shares his perspective. To read the article, click here.
---
GEMI Publications On Free CD-ROM
The Global Environmental Management Initiative's (GEMI) 10th Anniversary CD-ROM, GEMI Reports & Publications: A Decade of EH&S Tools, is available free of charge. GEMI is a non-profit organization of leading companies dedicated to fostering environmental, health and safety excellence worldwide through the sharing of tools and information. To order the free CD, visit the GEMI website here.