World Energy Alternatives, the nation's largest provider of alternative fuel for federal, state, utility, transit, municipal and private vehicular fleets, has launched a website about the alternative fuels industry at http://www.worldenergy.net.
Visitors can browse the technical specifications, applications, and performance characteristics of alternative fuels. By doing so, World Energy believes, they will see that alternative fuel integration has become simple for fleets of any size. Because the fuels are renewable and can

be used in any standard vehicle, World Energyexpects the convenience of online ordering to drive increased use.
A resources section allows visitors to review studies describing the benefits of biodiesel and ethanol. The site also provides access to the biodiesel MSDS sheet.
For more information, visit the site or e-mail Robert Skinner at rob@kuniangroup.com. For additional information about biodiesel, visit the National Biodiesel Board at http://www.biodiesel.org.

Toxic Brew Endangers World Water Supply
Toxic chemicals are contaminating groundwater on every inhabited continent, endangering the world's most valuable supplies of freshwater, reports a new study from the Worldwatch Institute. This first global survey of groundwater pollution shows that a toxic brew of pesticides, nitrogen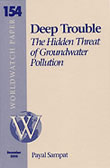 fertilizers, industrial chemicals, and heavy metals is fouling groundwatereverywhere, and that the damage is often worst in the very places where people most need water.
"Groundwater contamination is an irreversible act that will deprive future generations of one of life's basic resources," said Payal Sampat, author of Deep Trouble: The Hidden Threat of Groundwater Pollution. "In the next 50 years, an additional 3 billion people are expected to inhabit the Earth, creating even more demand for water for drinking, irrigation, and industry. But we're polluting our cheapest and most easily accessible supply of water. Most groundwater is still pristine, but unless we take immediate action, clean groundwater will not be there when we need it."
For more information, visit http://www.worldwatch.org/topics/water.html.
Theodore Osmundson's richly illustrated book Roof Gardens, History, Design and Construction impresses with its comprehensive scope and easy accessibility, and with the sheer beauty of many of the roof gardens presented. Starting out with concrete and asphalt, they turn into delightful palettes of colors and shapes.
We are given to describe an urban open space as an "oasis." Indeed, that is what roof gardens are about. Osmundson depicts the many tangible and intangible benefits of intensive and extensive green roofs, including:
Providing a connection with nature.
.
Offering more aesthetic environments for viewers from surrounding buildings.
.
Helping retain historically or culturally significant spaces.
.
Allowing neighbors to meet and helping to build community.
.
Serving as gardens for an urban citizenry that increasingly longs for places to grow its own herbs, vegetables and flowers.
.
Maintaining a healthy ecosystem by oxygenating the air.
.
Reducing urban heat by several degrees.
.
Absorbing dust particles and cleaning the air.
.
Retaining as much as 15 to 20 percent of rain falling on planted areas for up to two months.
.
Saving energy throughout the year (in the summer green roofs reduce heat penetration, and in the winter they reduce heat losses).
.
Generating tangible financial returns through higher rents and property values.
Osmundson offers elaborate, state-of-the-art U.S. and overseas research data, design and construction details, material selections, maintenance instructions, and information and supply resources.
Roof Gardens is a treasure trove for landscape architects and architects. It is available from W. W. Norton here.
[Hartmut H. Gerdes, a principal of Square One Productions, reviewed Roof Gardens. Gerdes produced Cities in the Sky, a film advocating roof gardens in San Francisco.]

Click to Protect Wild Lands & Plant Trees
You can conserve Amazon rainforest, help build national parks and nature preserves in East Africa, Mexico, Scotland, Canada, Patagonia, or the United States,

support treeplanting programs, and more at EcologyFund.com.
EcologyFund is owned and operated by CharityMall.com as a way to get new funds for critical habitat and wilderness preservation using the power of the internet. When you "click to donate," sponsors pay the project you select to preserve the number of square feet shown by each project. You pay nothing. To maximize the donation, click on each project every day. If you register, CharityMall will donate 500 square feet of wilderness in your name, and will keep a running tally for you of all the land you have preserved. All funds from sponsorships generated on EcologyFund.com go to purchase and protect wild lands.

Whole Systems Green Building Guide Online
A Green Construction Resource Guide for project developers and for the design, construction, and facility operation professionals they hire has been posted online by The Pacific Northwest Pollution Prevention Resource Center. It also can be used by technical assistance providers who work with businesses and institutions that may be planning construction or remodeling projects.
The Guide contains major sections on location and landscaping, water and energy efficiency, creating a healthy indoor environment, and material and product choices. It also includes practice and management guidelines, a listing of project specific resources, and case studies.

Smart Growth Yields Environmental Benefits
Several recent studies point to the real and substantial environmental benefits of a strategy of "smart growth." These most significant of these are summarized and linked below.
CommunityViz Software Testing Underway
The Orton Family Foundation is issuing a nationwide limited release of CommunityViz Version 1.0, a software package for community planning, during the first half of 2001. The CommunityViz limited release consists of phased

releases around the country, with each releasepreceded by a 3-day training session beginning in mid-March.
Participants will have the opportunity to join eight beta-test teams this summer in working with this revolutionary new software. They will form the nucleus of a new CommunityViz user group. Participants will receive the software, training, documentation and technical support from the Orton Family Foundation.
To participate in the CommunityViz limited release program, interested communities must complete a Request for Qualifications-Request for Proposal form that can be downloaded from the Foundation website here.
Solutions for a Sustainable Future
"The State of Oregon invites you to join thousands of Oregonians to find strategies for promoting the long-term health of Oregon's environment, economy, and communities." So begins the new website Oregon Solutions for a Sustainable Future.
The site was developed to help the state reach goals set forth in Governor Kitzhaber's May 2000 Executive Order on Sustainability. It includes special pages on 33 topics involved with creating a sustainable future, and it also contains useful collections of case studies, tools, and resources.

Reinventing Cities for the 21st Century
HUD's Strategies for Success: Reinventing Cities for the 21st Century report highlights eight promising economic development strategies illustrated or suggested by case studies of 10 American cities. The report also reviews the basic building blocks of economic development, describes the various roles the Federal Government plays as a partner to cities' economic development efforts, and discusses the critical importance of strong and visionary leadership in helping cities accomplish their economic development objectives.
The economic development strategies highlighted in the report are:
Redeveloping 24 hour downtowns.
.
Revitalizing housing and neighborhoods.
.
Creating destinations - tourism and related industries.
.
Upgrading old economy enterprises.
.
Capitalizing on clusters and collaborations.
.
Developing the workforce.
.
Attracting high-tech investment.
.
Creating new economy spin-offs.

Resourceful Renovator Revels Re: Reuse
A new book, The Resourceful Renovator, by Jennifer Corson contains hundreds of ideas for renovating and decorating projects that reuse wood, stone, metal, glass, brick, and ceramics. These materials consume

enormous amounts of energy in their production, and building materialsare the biggest proportion of all waste discarded in landfills.
The Resourceful Renovator contains many examples and photographs showing how basic building materials can be restored, rehabilitated, remodeled, repaired, revitalized, rejuvenated, reclaimed, renewed, refurbished, repainted, repointed, retrofitted, reconstructed, replicated, re-erected, rebuilt, recreated, redesigned, reworked, or relocated and reused. From Chelsea Green Publishing.

A new report from the National Governor's Association (NGA), In the Fast Lane: Delivering More Transportation Choices to Break Gridlock, describes how some states are "creatively combining transportation and growth planning… (to do) a better job of addressing traffic congestion - the number-one quality-of-life complaint of Americans."
Our economy is threatened by transportation inefficiencies, according to the NGA. "Businesses are choosing not to locate in regions where quality of life is being reduced by traffic congestion. Nationwide, more than $100 billion is spent annually on ground transportation…. The big question is: Can we spend transportation dollars more wisely?" For the NGA's answer, read their report here.

Driven to Spend, a report by the Surface Transportation Policy Project and the Center for Neighborhood Technology, analyzes government data on consumer expenditures, ranking 28 major metro areas by the portion of the family budget devoted to daily transportation costs.
Individuals spend five times as much of their own money on transportation as governments spend on their behalf - nearly 19 percent of the average family budget. In some areas, more than 22 percent of household spending goes for transportation, in others, only 15 percent. The bottom line - the average American family living in a highly sprawling area can pay thousands of dollars more per year for transportation than families in less sprawling communities.
Why Johnny Can't Walk to School
Public facility investment policies have often been an important contributor to urban sprawl, but a new study by the National Trust for Historic Preservation adds another element to the mix. A report entitled Historic Neighborhood Schools in the Age of Sprawl: Why Johnny Can't Walk to School, documents how misguided public policies, including excessive acreage requirements, funding formulas and planning code exemptions, are promoting the spread of mega-school sprawl on outlying, undeveloped land at the expense of small, walkable, community-centered schools in older neighborhoods. To find out more, read the full report here.
.