Successful Sustainable Land Development
A new book entitled The Practice of Sustainable Development has been released by The Urban Land Institute. It explains how to develop sustainable projects that are financially feasible,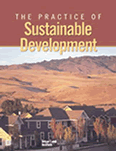 and it contains examples, practical techniques, and solutions -- proven ideas that can be used to make almost any project both sustainable and successful.
The Practice of Sustainable Development contains chapters discussing the concept of sustainable development and the relationships between sustainable development and ecology, economic development, and social equity. Specific topics covered include site design, financing, building systems, marketing, and approval processes.
---
Tailpipe emissions from cars and trucks account for almost a third of the air pollution in the United States. The Environmental Protection Agency is offering a new online Vehicle Emissions Guide to help you choose the cleanest new vehicle that meets your needs. The guide allows emissions data comparisons for new cars, trucks, vans and sport utility vehicles.
---
ColoradoENERGY.org is a one-stop shop for energy efficiency and renewable energy information in Colorado.

There is something for everyone at ColoradoENERGY.org. Visitors will find lots of "how-to's" as well as information about green building, energy-efficient applications, wind power, government actions, new technologies, laws and legislation, building energy professionals, energy events, and more.
---
A new and innovative website, Renewing the Countryside, has been developed to showcase successful communities across the Great Plains.
With yet another farming crisis taking its toll on the rural Great Plains, communities and their people are looking for new alternatives that will

provide both a viable and vital future. The Great Plains Institute for Sustainable Development, in collaboration with the Northern Great Plains Initiative for Rural Development and the Institute for Agriculture and Trade Policy, has built an interactive website that identifies vital communities and the individual and cooperative efforts that have made them thrive.
The site captures in pictures and words examples of Great Plains communities that are putting their initiative and landscapes to work to produce quality products and services while providing families with income, building stronger local economies, preserving the natural environment, and improving the quality of life.
The Great Plains Institute for Sustainable Development is a nonprofit organization dedicated to serving the citizens of the Great Plains across many borders as they wrestle with issues affecting the long-term viability of their communities, the productivity of their economic enterprises, the quality of their environment, and the prudent management of their resources.
---
JAMsKids.com: Organic Clothes For Kids
JAMSKids.com is a unique online store that sells natural children's clothing and products. Many items are hand made by moms who sew at home -- with custom designs and fabrics chosen with children in mind. In addition to having organic fashions and custom made clothing, JAMSKids.com features links geared towards parenting resources. For more information, visit JAMSKids.com or call 877-727-5267.
---
Sustainable Building: Green By Design

This educational multimedia CD-ROM introduces sustainable building practices using interactive video. In addition, Green by Design also includes a comprehensive 45-page color publication as well as many other useful informational resources. Co-produced by the Texas Environmental Center and the City of Austin (with a grant from the Department of Energy), the CD is free to schools and libraries in Central Texas and available nationally from DOE. For more details, call 512-505-3702 or visit http://www.tec.org/gbcd.jpg.
---
ClimateChangeSolutions.com, a highly acclaimed, award-winning Canadian website developed by The Pembina Institute, contains success stories about companies reducing greenhouse gas emissions. It recently added success stories about companies in the electric utility and oil and gas sectors.
"We found success stories with tangible measurable greenhouse gas emissions reductions which can be used as business models for other companies to use in their corporate planning," says Janet Sumner, Pembina Institute Project Manager. "We need to harness the success already happening with some companies and foster change where it hasn't already taken root."
Future success stories will focus on other industry sectors, including forestry, agriculture, chemicals, refining, mining, and metals. The Pembina Institute is an independent, non-profit think tank and activist public interest organization.
---
Cars Ranked By Greenhouse Gas Emissions
FuelEconomy.gov, the official Department of Energy/Environmental Protection Agency fuel economy website, allows consumers to compare up to three vehicles side-by-side for greenhouse gas emissions. Visitors may search for low greenhouse gas vehicles by market segment, size class or manufacturer. Car buyers can find greenhouse gas ratings for every 2001 car and light truck, plus used vehicles back to 1985.
They may review fuel-efficient driving tips, or learn more about advanced technologies. The site also contains extensive links -- to learn more about safety ratings or greener cars, to visit manufacturers' sites or jump to consumer information sites. Importantly, visitors may customize emissions and cost calculations to match the kind of driving they do and the price of gasoline in their area.
.