Renewable Energy Assistance Database Online
The Department of Energy is now offering an online database on financial and regulatory incentives offered by the states to promote renewable energy. To find out about the assistance programs offered in your state, visit http://www-solar.mck.ncsu.edu/dsire.htm.
---
Free Seminar Offers Introduction to GIS
Landscape architects and other design professionals will gather on May 27, 1999, from 9 A.M. to noon in the Los Angeles Convention Center for a seminar by the American Society of Landscape Architects (ASLA) on how to get the most from the latest GIS software to make their jobs easier and improve productivity.
"Technology is so important these days. We're excited to offer free and low-cost educational opportunities like this to give design professionals the tools they need to take advantage of this booming economy," said Pete Kirsch, executive vice president of ASLA.
Preregistration for the seminar is free for ASLA members, $25 for nonmembers, and free for students. After April 15, 1999, registration is only available on site and the fee for nonmembers is $40. Registration forms and passes are available through local ASLA chapters. Registration is also available through the national Society at 202-216-2354.
---
Capping Contaminated Sediments Cuts Costs
The South and Southwest HSRC has helped develop a more cost effective method of remediation of contaminated sediments at the Manistique River and Harbor project in northern Michigan. By using capping, approximately 100,000 cubic yards of PCB-contaminated sediment will be remediated in place.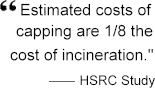 The total cost of isolating the contaminants from the ecosystem is $8 million to $12 million, compared with $50 million or more to dredge and incinerate them onshore. Estimated costs of capping are 1/8 the cost of incineration, which can be $500 per cubic yard or more.
For further information, contact Nancy Davis, South & Southwest HSRC, GTRI-EOEML, Georgia Institute of Technology, Atlanta, GA 30332-0837. Phone 404-894-8447 or e-mail nancy.davis@gtri.gatech.edu.
---
EcoScan: New Environmental Impact Tool
A new software tool developed by the Philips Corporation allows assessments of the environmental impacts of both buildings and consumer goods. It considers ozone depletion, toxics, air pollution, greenhouse gases, eutrophication, and acidification, and uses weighting factors to assess the total impact of a product. The software may be downloaded free from http://www.luna.nl/turtlebay/index.htm.
---
QuikChill: EPA's Newest Software Tool
This new software tool can perform a full economic and energy analysis of potential upgrades of complex chiller plants without complex building data. QuikChill can handle consolidation of existing chillers, integration of new chillers, and retrofits to existing chillers. It is an excellent tool, according to EPA, for dealing with CFC phaseout issues. To download this software, visit http://www.epa.gov/appdstar/appd/quikchil.html.
---
The Plastic Loose Fill Council hosts the "Peanut Hotline." People can call the hotline to find local businesses that accept packing peanuts for reuse. Launched in 1991, The Peanut Hotline is a free service that lists more than 1,500 businesses nationwide that accept loose fill. The number for the Peanut Hotline is 800-828-2214.
---
Location Of Radon Hazards Pinpointed
A method to identify regions with very high concentrations of radon in indoor air is presented in a new web resource from Lawrence Berkeley National Laboratory (LBNL). Radon is a naturally occurring radioactive gas that can cause lung cancer. The LBNL site presents background information about radon as well as maps and downloadable data showing the methodology and its results. Check out the site at http://eande.lbl.gov/IEP/high-radon/hr.html.
---
Audio Conferences To Prepare Design Professionals To Bid Successfully
To assist landscape architects and other design professionals successfully bid on projects under the new Transportation Equity Act for the 21st Century (TEA-21), the American Society of Landscape Architects is providing a series of audio-conferences for 1999.
TEA-21 funds more than $100 billion in transportation-related projects that landscape architects may lead from a planning and design standpoint. The funds are appropriated under a variety of categories including interstate maintenance, high-priority projects, environmental mitigation, and various enhancements such as pedestrian and bicycle trails.
To register for an audio conference seminar call 800-775-7654 or visit Continuing Education at http://www.asla.org. The fee for audio conferences is $129 for members, $185 for nonmembers, and $80 for students.
---
Trees Clean Up Pollutants & Save Money
The Great Plains-Rocky Mountain HSRC has developed a process using trees to clean up polluted soil and water. Known as phytoremediation, this process has proven useful at sites containing heavy metals, organics, nutrients, and mixtures of all three.
Trees take up contaminants and retain them or convert them into harmless substances. Use of poplar trees has produced savings of from $50,000 to $100,000 per acre at municipal sites.
For more information, contact Dr. Richard Hayter, Technology Transfer and Training Director, Great Plains/Rocky Mountain HSRC, Kansas State University, 101 Ward Hall, Manhattan, KS 66506. Phone 785-532-6519.
---
Gulf War Instrument Cuts Brownfields Costs
When communities attempt to develop polluted lands for new housing or commercial enterprises, they often find the costs of the needed environmental tests prohibitively high. These tests can account for 70 percent of the cost of an initial site investigation and 50 percent of the overall cleanup costs. Yet without the information they provide, communities can't explain to interested developers and lenders what the potential costs for environmental cleanup might be, and the prospective developers and lenders go elsewhere.
The Northeast HSRC is working with the community of Newark, New Jersey to use state-of-the-art field screening technologies that can cost effectively provide the information needed. One method, funded by the NHSRC and developed at Tufts University, uses an Army-surplus instrument developed for the Gulf War. The unit has been found to perform as accurately and precisely as traditional techniques, but gives results almost immediately at a fraction of the cost.
For further information, contact Dr. Jerry McKenna, Technology Transfer and Training Director, Northeast HSRC, New Jersey Institute of Technology, 138 Warren Street, Newark, NJ 07102. Phone 201-596-5882 or e-mail mckennag@adminl.njit.edu.
---
Businesses Can Pay Back Their "Carbon Debt"
Businesses can support tree planting and pay back their "carbon debt" by becoming part of American Forests Global ReLeaf 2000 campaign to plant 20 million trees for the new millennium. Most business activities release carbon dioxide into the atmosphere and thus contribute to global warming. Businesses can cancel this impact by planting or supporting the planting of sufficient trees to remove the same amount of carbon dioxide their activities add.
"Planting and caring for trees is one of the most cost effective ways to combat global climate change and should be an integral part of any comprehensive greenhouse gas reduction strategy," said Deborah Gangloff, American Forests executive director.
American Forests "Carbon Debt Calculator" can be used to determine the number of trees to plant. The Carbon Debt Calculator (available at http://www.americanforests.org/climate/amforcalc.html) totals an individual's or business's greenhouse gas emissions from energy use and other activities. Then it calculates the number of trees that need to be planted to offset the emissions or "pay off" the carbon debt.
As trees grow they remove carbon dioxide from the air, release oxygen, and store carbon as wood. The rate at which trees store carbon through photosynthesis varies widely depending on the type of tree and the particular site conditions. American Forests has calculated that an average tree in one of its Global ReLeaf Forests will remove about 1 ton of carbon dioxide over a 40-year lifetime.
Studies show the U.S. could increase carbon storage by 300-600 million tons per year, offsetting 20 to 40 percent of its emissions, with a comprehensive effort to plant trees and improve forest management.
Businesses wanting to pay their "carbon debt" may contribute funds to pay for tree planting projects run by American Forests. More than 8 million trees have been planted in American Forests' Global ReLeaf Forests in North America and around the world.
Interested companies can call American Forests' John Falconer at 202-955-4500 ext. 210. Individuals can join the effort by calling the Global ReLeaf hotline at 800-545-TREE. $1 plants 1 tree (10-tree minimum). To find out more, visit the American Forests web site at http://www.americanforests.org.