Protecting "Aquatic Ribbons Of Life"
Wisconsin possesses more than 44,000 miles of rivers and streams meandering through varying terrain. The stateís watersheds reflect a variety of landscapes, communities, and histories. These rivers, streams, and watersheds are a valuable natural resource, historically vital to the state's commerce, industry, tourism, and quality of life.
The Wisconsin Bureau of Fisheries Management and Habitat Protection administers a River Planning and Protection grant program to help safeguard these resources from overuse and development. River Planning Grants up to $10,000 are offered, as are River Management Grants up to $50,000. Local governments or nonprofit groups may apply. For more information, click here.
---
Natural Heritage Preservation Funding
Recognizing the importance of planning for nature in the face of urban growth, the 1998 Minnesota Legislature established the Metro Greenways Program to promote the development of a regional network of natural areas, parks, wildlife habitat and other open spaces connected by greenways.
In a broad sense, a "greenway" provides continuity of habitat. The program includes regionally and locally significant natural areas as well as linear corridors of habitat. Although trails and other recreational uses may be included, the primary goal is to protect and enhance the ecological benefits these areas provide. In addition to planning grants, Metro Greenways also has funds available for assisting with land protection.
The program will provide matching funds of up to $30,000 for local units of government and other implementing agencies. Proposals are due January 26, 2001. For more details, click here.
---
Pennsylvania Is "Growing Greener"
The new Growing Greener Program signed into law by Pennsylvania Gov. Tom Ridge will invest nearly $650 million over the next five years to preserve farmland and protect open space, eliminate the maintenance backlog in State Parks, clean up abandoned

mines and restore watersheds, and provide new and upgraded water and sewer systems.
Under the Environmental Stewardship & Watershed Protection Act, state agencies are offering grants for technical assistance, watershed protection, open space, wastewater, drinking water, stormwater management, and farmland preservation. For more details, visit http://www.dep.state.pa.us/growgreen.
---
Insights For Difficult Decisions
The Federal Highway Administrationís Transportation Environmental Research Program (TERP) is funding research seeking to better understand the relationships between transportation and a broad range of environmental issues. Proposals should be in the range of $20,000 to $50,000, and may address transportation issues in relation to air quality, community, social, and environmental impacts, housing, noise, global climate change, environmental justice, water quality, wetlands, ecosystem/watershed planning, and hazardous materials.
The goal of TERP is to "provide insight on the difficult policy decisions that FHWA will undertake in the future." For more information, visit http://www.fhwa.dot.gov/terp. For specific details on research options, click here.
---
Envisioning Partnerships for a Sustainable Future
"Each year, greenway initiatives touch hundreds of cities and towns across America," according to The Conservation Fundís American Greenways Program. "Envision tree-lined pathways, protected waterways,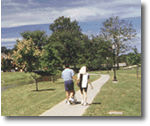 wildlife corridors linking refuges, communities crisscrossed by bike paths and walking trails."
Through its greenways program, The Conservation Fund helps build a national network of linked open spaces and natural areas, connecting communities to the outdoors and to each other and forging what it calls "partnerships for a sustainable future." A greenways network links natural areas, historic sites, parks, and open space.
The Eastman Kodak American Greenways Awards, a partnership including Kodak, The Conservation Fund, and the National Geographic Society, awards grants to stimulate the planning and design of greenways. Awards go primarily to local, regional, or statewide nonprofit organizations, although public agencies may also apply. The maximum grant is $2,500. For more information, click here.
---
Grants To Monitor Environmental Conditions
The goal of EPAís Environmental Monitoring for Public Access and Community Tracking (EMPACT) program is to provide public access to environmental monitoring information that is clearly communicated and timely. Environmental monitoring is the systematic measurement and evaluation of physical, chemical, and/or biological information intended to assist the public in day-to-day decision-making about their health and the environment.
Grant awards will establish pilot projects in a limited number of eligible communities. Projects will emphasize using advanced and innovative technologies to monitor environmental conditions and communicate environmental information to citizens. Information derived from EMPACT monitoring activities must be disseminated using terminology and formats that are clearly understandable, relevant, and credible to the lay public.
Approximately $4 million will be made available, with a potential award value of up to $400,000. Additional information about the EMPACT program and projects is available at http://www.epa.gov/empact.
---
Ag Land Stewardship Grants In California
The California Farmland Conservancy Program (CFCP) seeks to encourage long-term private stewardship of agricultural lands through the use of agricultural conservation easements. The CFCP, formerly known as the Agricultural Land Stewardship Program, was created in 1996. It provides grant funding

for projects which use and support conservation easements for the protection of agricultural lands.
The CFCP also offers funding for policy and planning projects related to agricultural land conservation and land improvement projects. Cities, counties, and private nonprofit organizations may apply. For more details, click here.
---
Parks & Open Space Investment
The Trust for Public Land (TPL) is offering a two volume online guide to increasing public investment in parks and open space. Volume 1 summarizes a wide range of local financing techniques and provides case studies of successful efforts from ten states. Volume 2 focuses in on the issues, opportunities and problems associated with fee-based means of park financing. It also includes a section on gifts and donations, and closes with profiles of four community programs. To check out TPLís two volume local financing guide, click here.
---
Energy Grants & Loans In Iowa
The Iowa Energy Center awards grants to Iowa-based nonprofit groups to conduct energy-related research, demonstration and education projects. These projects, which range in size and complexity, are conducted throughout the state. Recipients may include Iowa's three major universities, community colleges, nonprofit energy organizations, and community-based educational groups. To learn about funding opportunities available through the Iowa Energy Center, click here.
---
Recycling Grants In Tennessee
Tennesseeís Department of Environment and Conservation provides grants to local governments and development districts to fund a range of recycling related activities. Eligible activities include waste tire recycling, acquisition of recycling equipment, recycling rebates, program planning, used oil collection, and material recovery facilities. For more information, click here.