<!-Body Text -->

Energysearch, an Internet search engine by the Electric Power Research Institute (EPRI), provides Internet users with a fast, accurate tool to search energy-related topics.

This comprehensive easy-to-use tool unlocks a huge storehouse of energy information. The Energysearch database includes more than 180,000 documents from over 500 sites. For more information, contact David Hall at 650-855-2589; Email dhall@epri.com or visit http://www.energysearch.com.

Sustainable Development Scholarships Available

Funded by the Educational Foundation of America, scholarships are being offered to enable US citizens to attend courses of between one and five weeks in length at Schumacher College. The scholarships are for people who can use the knowledge they gain to help build a more sustainable America.

Schumacher College is an international center for ecological studies, based in southwest England, which explores the foundations of a more sustainable, balanced and harmonious world. For more information, contact Kath Dalmeny at schumadmin@gn.apc.org or visit their website at http://www.gn.apc.org/schumachercollege/efa.htm.

The Surdna Foundation awards grants for community revitalization, including youth initiatives, the environment, and organizational capacity-building. Grants generally range from $10,000 to $150,000. For more information, contact Jonathan Goldberg, Surdna Foundation, at 212-557-0010 or visit the Surdna Foundation website at http://www.surdna.org.

Sustainable Economic Development Funding Available

The Economic Development Administration http://www.doc.gov/eda has announced the availability of funds for brownfield development, eco-industrial parks, and other sustainable development projects that help economically-distressed areas. For more information, visit http://www.sustainable.doe.gov/management/eda.htm.

Talk About A Bridge To The 21st Century. . .

The Department of Energy's "Information Bridge" website http://www.doe.gov/bridge includes the full-text and bibliographic records of DOE-sponsored report literature. The current collection includes reports that have been received since January 1996. Public access to this growing collection of over 1.4 million searchable pages in 25,000 reports represents a breakthrough in reducing the cost of obtaining DOE's scientific and technical information and in expanding public access to products resulting from DOE's $6 billion annual science and technology research investment. The Information Bridge is a module of the Department's virtual library called EnergyFiles at http://www.doe.gov/EnergyFiles.

Renewable Energy for Communities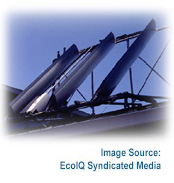 "Renewable Energy: Opportunities for Local Governments," by Mary Tucker, City of San Jose, discusses the status and benefits of renewable energy technologies, and identifies several key opportunities for local governments.
"There is a growing body of knowledge, experience and resources," according to the report, "that clearly identifies the role that renewables, and in particular, solar, can play in the changing restructured utility market...(R)enewable installations can contribute a variety of significant benefits to local governments."
To read, visit http://www.pti.nw.dc.us/energy/renewables.htm.
New Alternative Fuel Vehicle Fleet Buyer's Guide
The DOE Office of Transportation Technologies has released the Alternative Fuel Vehicle Fleet Buyer's Guide. To review the guide, visit http://www.fleets.doe.gov/.
EPA's Pay-As-You-Throw site http://www.epa.gov/payt provides information on local governments that charge for waste disposal by the amount discarded. The resources on the site include EPA's pay as you throw outreach products, including a tool kit and fact sheets. Subjects from container options to rate structure design are reviewed.
The Alliance to Save Energy has posted the Home Energy Checkup, a guide to saving money and increasing comfort in homes while reducing energy use and pollution. Visitors can select from among 14 kinds of energy efficiency choices, see how much money and pollution they can save, find out where to get energy efficient products, and get tips on how to act on their choices. It's quick, easy, and a real eye-opener. Visit at http://www.ase.org/checkup/home.
Wetlands Creation, Restoration Guide Online
Restoring and Creating Wetlands: Planning Guide for the Central States is available at http://www.epa.gov/owow/wetlands/pdf/restore.pdf. The U.S. Environmental Protection Agency Office of Water document was created to help planners, government, businesses, and the general public understand how to plan projects to create and restore wetlands.
California Renewable Electricity Providers Listing Online
The California Energy Commission has posted a listing for consumers who are evaluating their choices for electricity providers. Visit and check out your choices at http://www.energy.ca.gov/greenpower/providers.html.
New Guide Helps Clarify Complex Clean Air Laws
The U.S. Department of Energy (DOE), in cooperation with the U.S. Environmental Protection Agency (EPA), has released A Guide to the Emissions Certification Procedures for Aftermarket Conversions.
This new federal guide can help fleet managers, equipment manufacturers and installers of vehicle conversion kits navigate through emissions regulations for vehicles converted to alternative fuels (known as "aftermarket" conversions).
The Guide is a simple step-by-step reference manual that explains EPA certification requirements under the newest rules. It covers dedicated and dual-fuel conversions and includes agency contact information, certification process flow charts, reference tables and an extensive description of responsibilities and requirements such as information labels, warranties and records keeping.
To obtain a copy, call the National Alternative Fuels Hotline at 1-800-423-1DOE or visit http://www.afdc.doe.gov/web_view/emis_guide/
conversion.html.