By Edward Osann
American Council for an Energy-Efficient Economy (ACEEE)
[This statement was presented by ACEEE Senior Policy Associate Edward Osann on June 3, 1999 at the National Press Club in Washington, DC.]

hat do GenX-ers and Seniors, Blacks and Whites, Southerners and Westerners, Republicans and Democrats, and city dwellers and rural residents all have in common? Based on the latest poll results, they all overwhelmingly support - typically by margins of 80% or more - the encouragement of energy efficiency and renewable energy through tax incentives.
If there is to be a tax cut enacted this year, policy makers would be wise to include tax incentives to encourage renewable energy and energy efficiency. That's the message that Americans are sending today with remarkable clarity.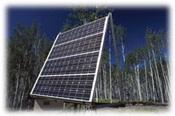 Many Members of the 106th Congress of both parties have already introduced or cosponsored new or extended tax incentives — to increase the construction of new homes that are much more energy efficient than the average new home; to increase the purchase of vehicles that use environmentally cleaner and more efficient technologies; and to increase the use of renewable energy for the production of electricity.
The Clinton Administration has included each of these in some form in its own budget proposals for FY 2000, and has added additional incentives — to increase the purchase of heating and cooling equipment that is much more energy efficient than the average new heating and cooling systems.
These poll results should encourage both the Administration and Congressional leaders to press on for enactment of these popular measures. Each of these proposals has found a receptive audience extending to all sectors of the American people. Some in Congress will have to scurry to catch up with the public. With mid-July deadlines looming for both of the tax-writing committees, some legislators remain wary of offering tax incentives for sound energy choices.
For the Clinton Administration, the time has come to submit a bill. Last year, they waited until September to submit legislation on a proposal announced in January. The Sustainable Energy Coalition has called upon the White House to submit its new legislation without further delay, to ensure a fair shot at enactment of these measures.
We recognize that these tax proposals, in and of themselves, will not change the world. But they can transform the American marketplace by offering customer incentives that will boost production of advanced energy-saving and renewable energy technology. Within a few short years, higher production will lead to reduced unit costs, and these clean energy technologies will be well on their way to capturing a rapidly growing share of the U.S. and global marketplace. And that will change the world.
-- From the American Council for an Energy-Efficient Economy