---
Opinion Articles:
Doubling Co-Generation A Productive Idea
Utilities Shouldn't Abandon Programs
---


he American Council for an Energy-Efficient Economy (ACEEE) applauds the U.S. Department of Energy (DOE) for its new commitment to double the use of combined heat and power (CHP) systems in commercial, industrial, and institutional buildings throughout the United States by 2010.
"CHP is an important component of our national energy future. ACEEE's analysis has shown that CHP alone can get us more than 10 percent of the way toward meeting our Kyoto climate change commitments, and with net economic benefit," said Howard Geller, Executive Director of ACEEE.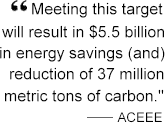 Combined heat and power systems, also called cogeneration, generate power (electrical or mechanical) and heat at the same time using a single fuel. Power generation in the United States is only 32 percent efficient on average. By combining the generation of power and heat, energy normally lost in power generation can be recovered to displace heat normally generated separately, yielding overall efficiencies of greater than 70 percent.
The DOE target represents increasing installed CHP capacity in the United States from around 50,000 megawatts today to around 100,000 megawatts by 2010. ACEEE estimates that meeting this target will result in $5.5 billion in energy savings in 2010, with emissions reduction of 37 million metric tons of carbon, 940,000 tons of sulfur dioxide, and 420,000 tons of nitrogen oxides.
ACEEE's Industrial Program Director Neal Elliott has been an advisor to the initiative since its inception and recommended that this particular goal be set. "We have accomplished a great deal in the last two years, moving CHP from an unknown quantity in the national energy discussion to a front burner issue. The Department of Energy now recognizes the significant contribution that CHP will make to America's energy future," said Elliott.
-- From The American Council for an
Energy-Efficient Economy (ACEEE)