---
Opinion Articles:
Does Congress Get It???
Doubling Co-Generation A Productive Idea
Utilities Shouldn't Abandon Programs
---


he American Council for an Energy-Efficient-Economy (ACEEE) supports the Administration's request for energy efficiency R&D and deployment programs at the Department of Energy (DOE) in FY 2000 as well as the proposed tax incentives for purchasing extra-efficient new vehicles, equipment, and homes. DOE is requesting $838 million for energy efficiency programs in FY 2000, 21% more than the $692 million enacted for FY 1999. The Administration also is proposing $3.6 billion over 5 years in tax incentives for energy efficiency, renewable energy, and other environmental technologies that reduce emissions contributing to climate change.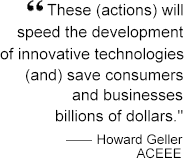 "These R&D increases and tax incentives will speed the development of innovative technologies, save consumers and businesses billions of dollars, and reduce pollution of all types," said Howard Geller, Executive Director of ACEEE. "These initiatives are the minimum steps needed to accelerate energy efficiency improvements and stop the growth in our greenhouse gas emissions, as the U.S. promised to do when the Senate ratified the Rio Climate Change Convention in 1993," Geller added. "The President's proposals make sense and should be welcomed by members of both parties in Congress."
The R&D increases and tax credits would support development, commercialization, and adoption of a variety of advanced energy-saving technologies and systems, including:
Superefficient cars and light trucks -- vehicles powered by fuel cells or gasoline-electric hybrid systems that are up to three times as efficient as typical models now sold.
.
Innovative home designs -- new homes that use at least 30% less energy for heating and cooling than homes built under today's "Model Energy Code," with little or no extra first cost.
.
Highly efficient heating and cooling systems -- such as a natural gas-fired heat pump that a consortium of gas utilities will commercialize which is twice as efficient as a typical new gas furnace.
.
Highly efficient water heaters -- such as water heaters using heat pumps to save 50-70% of the electricity consumed by conventional electric water heaters.
.
New industrial technologies -- advanced technologies that could greatly reduce energy use, waste generation, and pollutant emissions in key industrial processes such as manufacturing steel, aluminum, paper and pulp.
Once established in the marketplace, these technologies could provide huge economic benefits for manufacturers, consumers, and the environment. Manufacturers will increase their revenues by selling more sophisticated, energy-efficient cars, heating systems, industrial process equipment, and the like. Consumers will cut their energy bills far more then any extra initial cost. U.S. industries will be well positioned to market cleaner, energy-efficient technologies to consumers and businesses worldwide. And the environment will benefit from reductions in air pollution, liquid effluents, solid wastes, and greenhouse gas emissions.
"While this package is a step in the right direction, energy efficiency funding should be boosted above the President's request and the tax incentives package should be expanded," commented Ed Osann, Senior Policy Associate at ACEEE. "Last year was the hottest year on record. Climate-related disasters claimed 50,000 lives worldwide and cost insurers nearly $100 billion. Unfortunately U.S. carbon dioxide emissions are already up 10 percent from 1990 levels and are still rising. Much more needs to be done to cut these emissions. Stimulating more rapid innovation and adoption of new technology is the way to start," said Osann. "Even those members of Congress who do not believe that the Kyoto Protocol is a good idea should support these research initiatives and tax incentives."
ACEEE also notes that the Administration's budget request for energy efficiency and renewable energy R&D in FY 2000 -- $1.04 billion -- is well below (15% below to be exact) the level of $1.23 billion recommended by the President's Committee of Advisors on Science and Technology (PCAST) in a November, 1997 report to the President.
"In years past, Congress has repeatedly cut the President's budget request for these programs. But considering the broad benefits of R&D in general and of energy efficiency and renewable energy R&D in particular, Congress should see the President's request and raise him another $200 million," said Geller. "The leadership of the 106th Congress should take a fresh look at sustainable energy programs and make the Millenium Budget something that serves the needs of future generations," Geller concluded.
-- From The American Council for an
Energy-Efficient Economy (ACEEE)