Urban Living in the New Millennium
New Auto Fuel Economy Standards Needed
The U.S. Must Lead On Greenhouse Gases
---


hould the United States and other developed countries take the lead in restricting greenhouse gas emissions without parallel actions by developing countries? U.S. opponents of the Kyoto Protocol say no, predicting that such actions would be harmful to U.S. economic interests. Others say that because developed countries are mostly responsible for harmful emissions, they are thus obligated to take the first step. Who should we believe?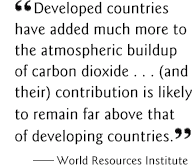 The current climate change debate is framed around metrics -- measurements that are used to determine current and future responsibility for the amount of greenhouse gases emitted. Policy debates frequently refer to annual carbon dioxide emissions from fossil fuel burning to assess how much developing and developed countries are contributing to climate change.
"Relying solely on the conventional measure of annual industrial emissions skews public and political debates," says Duncan Austin, co-author of a new report entitled Contributions to Climate Change: Are Conventional Metrics Misleading the Debate?, released by the Washington, DC-based World Resources Institute. "Looking instead at how much developed and developing countries have contributed to the long-term buildup of gases in the atmosphere reaffirms the need for developed countries to take the lead on emissions reductions."
Indeed, report authors Austin, José Goldemberg, and Gwen Parker emphasize that an alternative measure -- "stock contributions" -- more fairly measures regional responsibility. Stock contributions, the authors explain, reflect how much developed and developing countries have actually contributed to the buildup of the atmospheric stock of carbon dioxide that has occurred since preindustrial times. This measure takes into account not only the releases from fossil fuel burning but also from deforestation and land-use change.
Other significant findings from the report include:
Measures of annual emissions understate the contributions of developed countries to the buildup of carbon dioxide in the atmosphere.
It will be 40 to 60 years before developing countries will have contributed as much as developed countries to the atmospheric buildup of carbon dioxide.
Focusing on just industrial emissions ignores important contributions from land-use change, the majority of which come from developing countries.
Developed countries have added much more to the atmospheric buildup of carbon dioxide on a per capita basis, and their population-adjusted stock contribution is likely to remain far above that of developing countries throughout the coming century.
Based on these research findings, the authors recommend:
Developed countries should shoulder the burden of early emissions reductions.
International climate policies should recognize as broad a range of land-use and forestry-based mitigation options as is feasible, giving emphasis to options that further sustainable development.
For additional information, visit the World Resources Institute website at http://www.wri.org/wri/cpi.
-- From the World Resources Institute