Urban Living in the New Millennium
New Auto Fuel Economy Standards Needed
The U.S. Must Lead On Greenhouse Gases
---


ctions by the OPEC cartel and the resulting oil price shocks of 1973 and 1979 threw our economy into recession, costing millions of jobs and trillions of dollars of lost economic growth. In response to these events, the United States dramatically cut its oil use and its oil import dependence.
One of the key strategies used was to nearly double the average fuel economy of new cars sold, mainly as a result of the Corporate Average Fuel Economy (CAFE) standards enacted in 1975. The 31 percent decline in U.S. oil intensity between 1977 and 1985 directly contributed to the collapse in world oil prices in 1986 and the relatively low prices that have prevailed since then. Automotive fuel efficiency worked.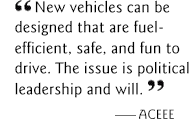 But many U.S. leaders have forgotten these lessons. Our oil import dependence has climbed steadily since 1985. Imports now represent 48 percent of oil consumption, compared to just 34 percent of consumption in 1973. The U.S. oil import bill, limited by soft oil prices, is still over $60 billion each year. This means fewer jobs in the United States and vulnerability to explosive trade deficits should oil prices move higher, as they are expected to move in the next decade.
Fuel efficiency efforts, particularly with respect to oil use, have greatly diminished. The average fuel economy of new cars and light trucks actually declined 6 percent from 1988 to 1997, and the oil intensity of the U.S. economy has barely declined in the past 10 years. In short, we are headed for another oil price shock and more economic hardship if we don't reverse these trends.
The most important step the United States can now take to reduce its oil imports and vulnerability is to increase the fuel efficiency of new vehicles. By adopting stronger CAFE standards, incentives for consumers (fees or rebates based on each vehicle's fuel economy), tax credits to stimulate the early introduction of highly efficient vehicles, and increased research and development with private-sector partners, the average fuel economy of new cars and light trucks could reach 42 MPG by 2010 and 58 MPG by 2020, compared to 24 MPG today. This would reduce U.S. oil use by 2.2 million barrels per day (MBD) by 2010 and 4.6 MBD by 2020. For comparison, the United States now imports 9.2 MBD (net), including 1.7 MBD from the Persian Gulf region.
Enacting stronger CAFE standards is the cornerstone of this strategy, and it is long overdue. The initial CAFE standards, in spite of strong attacks from the auto industry, have been a tremendous success. David Greene, a respected transportation expert from Oak Ridge National Laboratory, has recently written: "Not only have they (the CAFE standards) been largely responsible for the near doubling of U.S. passenger car fuel economy and more than 50% increase in light truck MPG from 1975 to 1984, but they have also been effective in achieving their primary objective: restraining the automobile's appetite for oil. . . . All of this was done at a price American consumers were apparently willing to pay."
New vehicles can be designed that are fuel-efficient, safe, and fun to drive. The issue is political leadership and will -- policy makers having the courage and fortitude to move ahead today in the face of industry opposition, just as they did in 1975. And this time, we can and should move ahead with tougher fuel economy standards and complementary market incentives before rather than after the next oil price shock.
-- From The American Council for an Energy-Efficient Economy (ACEEE)