By Jerry T. Estruth

e have seen the future and the future is us. Drive around any urban area today and feel the environment around you. What is it that first catches your attention? For most of us, it is simply how crowded it feels. Cars, buildings, pavement, strip malls, shopping centers, highways, freeways, trains, planes and mazelike interchanges are ubiquitous.
This is the present. Now, add another 100 to 200 million people to the population of the United States, or worse yet, 2 to 3 billion people to the population of the world. Can you visualize this future? Can you imagine the problems that our children and their children will face? Will this future be sustainable, or will we fall of our own weight?
There is hope however. The leaders of our cities are struggling to build transportation systems and to create communities that are livable and provide an environment friendly to people and animals. Slowly, awareness is growing and methods are being developed to enable us to build self-sufficient places to live in the future.
A very important factor in all of this is the movement to preserve open spaces. Pioneered by organizations such as the Nature Conservancy and the Trust for Public Land, large tracts of open space are being acquired and preserved throughout the United States.
In the San Francisco Bay Area, for example, open space groups have been formed in virtually every one of the counties surrounding the Bay. Over the last 20 years, tens of thousands of acres have been purchased and will remain as permanent public open space forever. In 1998, the Packard Foundation gave this cause a giant boost by donating more than $300,000,000 to preserve land throughout California.
Land preservation organizations sometimes simply purchase land outright. Other times, they are the beneficiaries of bequests or charitable remainder trusts. Sometimes property owners, anxious to preserve the land they love, donate conservation easements or development rights to these groups.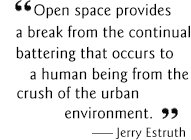 The careful observer may wonder what kind of benefits accrue to areas when land is preserved. While the rewards may not at first be obvious to everyone, awareness is growing. Concepts such as viewsheds and watersheds are becoming established in the collective consciousness. Increasing numbers of people are becoming aware of the benefits that open space provides for cleaner air and the human psyche.
Open space provides a break from the continual battering that occurs to a human being from the crush of the urban environment. Furthermore, large tracts of open land existing contiguously to developed areas preserve the quality of the overall environment. Such open space benefits as reducing flooding, replenishing the water supply, and preserving plant and animal habitat are all necessary to preserve the sustainability of our planet's environment.
There are many challenges facing open space preservation groups, such as raising adequate public and private funds. There are continual battles with Taxpayer Associations that fear the intrusion of government agencies. There is the understandable fear that property owners have of agencies with the power of eminent domain.
It must be the goal of open space groups to build trust and to create broad-based coalitions to ensure that these fears are reduced. Unwise acquisition policies would engender ill will, and pursuing the lands of unwilling sellers is generally too expensive in any event. Overly aggressive action by land preservation organizations would prove counterproductive over the long term.
There are many things that must be done to provide for a sustainable future for our children and their children. Preservation of open space is a critical piece of the mosaic necessary to create this future.
---
Jerry Estruth is President of the Land Trust for Santa Clara County. He was formerly the Vice Mayor of the City of San Jose, and served as the Chair of the Board of the Santa Clara Open Space Authority. He is a Senior Vice President of Morgan Stanley Dean Witter.