The News Briefs section of EcoIQ Magazine is underwritten by Gryphon Communications. To find out more about Gryphon Communications...
---
Pennsylvania Sets Smart Growth Example

Pennsylvania Governor Tom Ridge has signed two "Growing Smarter" land-use bills which together will make the most dramatic changes in state land-use laws in more than 30 years.
"These bills will help Pennsylvania 'Grow Smarter' in the 21st century," Gov. Ridge said. "They will work because they bring common-sense tools, common-sense solutions to Pennsylvania's land-use challenges."
Terry Kauffman, Chairman of 10,000 Friends of Pennsylvania, said these bills offer an historic opportunity. "They enable counties and municipalities to plan together for both growth and conservation of resources, and, most importantly, to implement those plans through cooperative agreements and consistent ordinances," he said. "They provide new planning tools like Designated Growth Areas, and tools to carry out their plans, including targeted infrastructure, transfer of development rights, and tax and revenue sharing."
The two bills also amend state law to give local governments greater ability to withstand legal challenges to their land use plans as well as to facilitate consistent planning at the local, county and regional levels.
After signing these plans, Governor Ridge directed all state agencies to support his "Growing Smarter" policy. A state "Interagency Land Use Team" formed by the Governor identified more than 100 state programs that impact land use. Where these programs do not now support smart growth, they will be changed to do so, Ridge said.
For more details, click here.
---
Corporate Heavyweights Back Green Power
Eleven major U.S. businesses have announced that they are working with the World Resources Institute (WRI) and Business for Social Responsibility (BSR) to develop corporate markets for 1000 megawatts of new "green" energy capacity over 10 years.
The partnership, calling itself the Green Power Market Development Group (GPMDG), was organized to support the development of green energy markets. It believes that such markets are essential to provide competitively priced energy that also protects the Earth's climate and reduces conventional air pollutants.
The corporate members of the group include DuPont, General Motors, IBM, Interface, Johnson & Johnson, Pitney Bowes, and Kinko's. Together, the 11 companies account for about seven percent of industrial energy use in the United States.
"Businesses have the human and financial resources to make a huge difference in the world's development path," said Jonathan Lash, president of WRI and former co-chair of the President's Council for Sustainable Development. "It is inspiring to see companies acting now to help create a clean energy future."
For more details, visit http://www.wri.org/wri/press/greenpwr.html.
---
Gas Guzzlers Drive Off With Billions
A new study by Friends of the Earth, Gas Guzzler Loophole: SUVs and Other Light Trucks Drive Off with Billions, shows that automakers are

using a loophole in the federal tax law to escape more than $10 billion a year in taxes while producing more polluting and gas-guzzling vehicles.
In 1978, a "gas-guzzler tax" was passed by Congress that applies to cars that get less than 22.5 miles-per-gallon. The worse the fuel efficiency, the higher the tax. However, SUVs and other light-trucks that get less than 22.5 miles to the gallon are exempt.
"This is the single largest subsidy for pollution in the world," said Sean Moulton of Friends of the Earth. "Why should a gas-guzzling SUV be exempt when a gas-guzzling sports car is not?"
John DeCicco, Transportation Program Director for the American Council for an Energy Efficient Economy, explains that "the gas-guzzler tax exemption is one key reason why excessively inefficient SUVs and other light trucks are running amok on the road. This loophole should be systematically and equitably closed."
For more information, visit http://www.foe.org/gasguzzler.
---
Brownfields Attracting Home Builders
According to an article published in HousingZone.com, urban brownfields (sites with real or perceived toxic contamination) are becoming more attractive for housing development.
The reasons cited include a growing receptiveness by cities to infill housing, increasing fees attached to sprawling development, reductions in the cost of some cleanup technologies, and growing market demand.
"Even in cities like Los Angeles, historically seen as suburban, young singles and couples, as well as empty-nesters, are returning in droves to urban living," says Timi Hallem of the real estate consulting firm Tuttle & Taylor. To read the full article, click here.
---
Photovoltaic Shipments Take Off
U.S. production of photovoltaic modules and cells in 1999 reached a record level of 77 thousand peak kilowatts, up 52 percent from 1998, according to information released by the Energy Information Administration (EIA).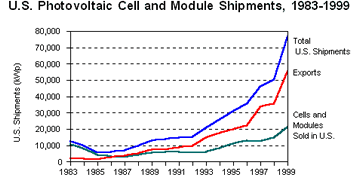 This growth in shipments, according to the EIA, was due largely to a strong export market, which accounted for 72 percent of the shipments in 1999. Photovoltaic use in the U.S. has traditionally been for stand-alone units to provide electricity in remote areas. In 1999, however, shipments of photovoltaics for connection to the electric power grid increased by 75 percent over 1998 levels, from 14 thousand peak kilowatts to 25 thousand kilowatts.
As sales and shipments went up, PV cell prices dropped one third between 1998 and 1999 -- to $2.01 per peak watt. Module prices also declined, from $3.94 per peak watt in 1998 to $3.62 in 1999.
---
Livable Communities Seen As Critical Concern
In a survey conducted for The American Institute of Architects, state and local government policy makers were asked about their views concerning livable communities. Among the key findings:
• 78% of those surveyed say that compared to other political and economic issues, "livable community" concerns are either "one of the most important" issues or "very important."

• 68% believe that concern over "livable communities" is growing.

• Factors that most define what makes a community "livable" are air quality, educational facilities, parks/open spaces, and housing.

• Regional planning is considered by state and local policy makers to be most important in dealing with transportation and air and water quality.
To review the full report, click here.
---
The International Conference Sustainable Building 2000, to be held October 22nd through 25th in Maastricht, The Netherlands, will bring together sustainable building practioners to consider policies, design measures and guidelines, assessment methods, and product management. The event is being sponsored by Novem (Netherlands Agency for Energy and Environment) and VROM (The Dutch Ministry for Housing Environment and Spatial Planning). For more details, visit http://www.novem.nl/SB2000.
---
"Father" Of Permaculture To Teach

Dr. Bill Mollison, author of seven books and often called the "Father of Permaculture," is stepping out of retirement to teach a three-day Permaculture course at the Northwest Louisiana Commerce Center (from October 10th through 12th).
In 1981, Mollison received the prestigious Right Livelihood Award (known as the alternative Nobel Prize) for developing and promoting the theory and practice of Permaculture.
His course supports efforts to develop a North American demonstration of sustainable agriculture and commerce at the deactivated Louisiana Army Ammunition Plant, where plans are under way to renovate the area for Permaculture practices.
For more information, visit http://www.nwlcc.com/mollinvite.htm.
---
State & Local "Shining" Successes
The Fourth State and Local Climate Change Partners' Conference will be held in Alexandria, Virginia on November 1-3, 2000. This two-and-a-half day conference will provide current and prospective partners of EPA's State and Local Climate Change Program with new opportunities to discuss climate change issues.
The event will provide a dynamic opportunity for participant interaction, including breakout sessions focused on state and local shining successes. Meeting topics will include the latest assessment of the impacts of climate change, international policy updates, multiple benefits of climate change policies, emerging technologies for mitigating climate change, and state and local mitigation activities relating to carbon sequestration, renewable energy, energy efficiency, outreach, electricity generation, and other priorities.
For more information, visit http://www.epa.gov/globalwarming/events/epa.
---
The Annual Conference of the American Water Resources Association (AWRA), to be held November 6th through 9th in Miami, will address coastal area issues including watershed quality, tropical storms, habitat loss, and future available water.
In the words of conference planners -- "Coastal areas experience great challenges.... Cities encroach upon pristine, natural habitats.... Watersheds are impacted.... Policies are written... and the future of available water and its quantity is decided."
The American Water Resources Association offers superior technical programs presented using a multidisciplinary approach to problem solving. For more detailed information, visit http://www.awra.org/meetings/Miami2000.

---
The News Briefs section of EcoIQ Magazine is underwritten by Gryphon Communications. To find out more about Gryphon Communications...
---