The News Briefs section of EcoIQ Magazine is underwritten by Gryphon Communications. To find out more about Gryphon Communications...
---
Barriers To Decentralized Power Production
DOE has released a comprehensive report that documents, for the first time, the barriers that often prevent electricity customers from generating their own electricity. The report, Making Connections: Case Studies of Barriers to Interconnection of Distributed Power, examined 65 "distributed power" projects and found that 89 percent of them had to overcome major utility-related barriers. Distributed power projects

are generally located where the electricity they produce is used.
According to the Energy Department report, many of the artificial barriers to distributed generation grow out of long-standing regulatory policies and incentives designed to support monopoly supply.
"Hundreds of millions of dollars and hundreds of thousands of work hours are lost each year due to power supply disruptions that could otherwise be avoided if the barriers to distributed electricity generation were removed," said Energy Secretary Bill Richardson.
In addition to improved reliability, distributed generation promises greater customer choices, efficiency advantages, and a host of environmental benefits. Technologies used for distributed generation often reduce the environmental impacts of electricity production, and include fuel cells, microturbines, photovoltaics, wind turbines, and combined heat and power systems.
The DOE report contains a 10-point action plan for reducing the technical, business practice and regulatory barriers that discourage interconnection of distributed generation technologies to the electricity grid.
To review the report, click here.
---
Feds to Purchase California Desert
Using both federal funds and a major donation from the Wildlands Conservancy, the Bureau of Land Management has purchased 180,000 acres of pristine desert land between Barstow and Needles in southern California.
The protected area includes spectacular scenic resources as well as important habitat for the endangered Desert Tortoise. The acquisition includes lands in the Mojave National Preserve as well as lands in six designated wilderness areas - Clipper Mountains, Dead Mountains, Piute Mountains, Bristol Mountains, Old Woman Mountains and the Chemehuevi Mountains wilderness. For more details...
---
Photovoltaic Design Competition
The Potomac Region Solar Energy Association (PRSEA) is sponsoring its 7th annual solar photovoltaic design competition. Entries consist of a two page description

of the design and a design drawing up to 11" x 17" in size. Entries are judged for understanding, originality, and presentation.
Open to high school students across the nation, the competition offers a first prize of $500. Winning entries will be displayed at the Solar 2001 conference and announced at the International Awards Ceremony of the American Solar Energy Society Conference.
The deadline for entries is April 30, 2001. For more details, click here.
---
Transportation & Community Preservation Workshop
On September 14th & 15th, the Federal Highway Administration and the Environmental Protection Agency will host the second Transportation and Community and System Preservation Pilot (TCSP) Program Workshop in Washington, D.C.
TCSP is a research and grant program under the Transportation Equity Act for the 21st Century (TEA 21) to fund innovative transportation strategies that enhance community preservation, environmental protection, and social equity. The workshop will bring together people with shared interests in transportation, the environment, and community preservation to learn the latest on the program.
Sessions will provide information on how to coordinate metropolitan and statewide transportation planning, form effective partnerships, leverage resources, and encourage community involvement in transportation planning. For more details...
---
In a landmark commitment to environmental quality, the Seattle City Council has unanimously adopted a proposal to meet Seattle's future electricity needs with no net emissions of greenhouse gases.
Seattle City Light (a municipal energy utility) will meet the goal with energy conservation, relying on existing renewable hydropower, and developing new renewables such as wind, geothermal, solar and landfill gas. If fossil fuel use is necessary, the City will offset the emissions through other measures such as forest protection.

"Climate change is the world's most urgent environmental challenge," said Mayor Paul Schell, "but it's also very much a local issue. In Seattle, we can demonstrate that we take global warming seriously by ensuring that City Light provides clean electrical energy."
In the Pacific Northwest, scientists foresee global warming impacts including more summer droughts, winter floods, damage to forests, rising of ocean levels and deteriorating conditions for endangered salmon. By meeting electricity demand without contributing to greenhouse gas emissions, the City is making a major commitment in leading the fight against global warming.
For more information, read the Environmental News Service coverage of Seattle's actions here.
---
Exploring The Social Dimensions
"Sustainability means meeting human needs worldwide," according to the organization The Natural Step. "In order to do this, we need to examine our interactions not only with the biophysical world, but with each other."
The Natural Step uses a systems approach to strategic decision-making, guiding organizations and individuals to consider the full meaning of their role in society and the natural world. This involves asking several questions:
Are our actions toward each other sustainable over the long run?
Is our current use of resources meeting human needs worldwide and is it sustainable?
Are we respecting the diversity of peoples and cultures?
The Natural Step's Fifth Annual Conference on Sustainability -- Exploring The Social Dimensions -- will deal with these and related questions. It will he held at the Carter Center in Atlanta, Georgia from October 5th through 7th. For more details, click here.
---
Gore Livable Communities Initiative

Vice President Al Gore has announced a 30-point Livable Communities Initiative to offer more choices to communities seeking to improve their quality of life. "This initiative is not about no growth, but smart growth," Gore said, "the kind that builds a stronger community while achieving local goals."
The initiative is focused on expanding transportation choices, creating parks, protecting the environment, increasing public safety, and investing in education. Its aims include revitalizing cities, reducing congestion, and protecting farmland. It will feature voluntary partnerships with communities across the country.
"Our goal is to provide communities with the tools and resources they need to create more livable communities — places where families enjoy sustained prosperity, personal freedoms, a strong sense of community, and a high quality of life" Gore said.
To order a printed copy of the Building Livable Communities report upon which the initiative is based, click here. To download a PDF version of the report, click here.
---
The transition to green cars includes car maker use of green electricity. Following this simple eco-logic, Toyota Motor Sales, U.S.A. has announced that it has contracted to purchase green power for several California facilities. Toyota is buying electricity from 100-percent renewable energy sources for its U.S. headquarters in Torrance, its port facility in Long Beach, its regional sales office in Irvine, and its parts center in Ontario. Toyota estimates it will purchase 40 million kilowatt-hours of renewable energy annually, which is equal to the amount of power used annually by 6,060 average California homes. For more details...
---
Promoting Sustainability in the 21st Century

The Renewable Natural Resources Foundation (RNRF) will convene a national congress entitled Promoting Sustainability in the 21st Century from September 6th through 9th in Portland, Oregon.

Communities are experimenting with new tools, strategies and policies -- looking for better ways to manage growth and conserve natural resources.

"A regional approach to sustainability will require unprecedented cooperation and collaboration..."

Communities cannot plan in isolation and hope to do a much better job.

"A regional approach to sustainability is necessary to achieve more comprehensive solutions to manage growth and natural resources sustainably," according to RNRP event planners. "Although local approaches to sustainability are important and necessary, regional approaches deserve special attention because they address the issue of shared resources and ecosystems, and the spillover effects of individual and community actions. A regional approach to sustainability will require unprecedented cooperation and collaboration among the public and private sectors, as well as among federal, state and local governments."

Among the conference activities, delegates will evaluate several regional and community initiatives directed at sustaining natural resources and managing growth. These initiatives emphasize preserving, protecting, and restoring renewable natural resources including water, fish and wildlife, forests, soils, agriculture, rangelands, coastal marine, and air. Delegates also will evaluate the connection between community and regional planning for sustainability.

For more information, contact the Renewable Natural Resources Foundation at 301-493-9101 or e-mail info@rnrf.org.
---
Rail-Volution 2000: Building Livable Communities with Transit

Rail-Volution, scheduled this year for October 4th through 8th in Denver, has become a key annual national conference on building livable communities. It has evolved as a showcase of the best ideas from across the country, the processes used to realize them, and the tangible results achieved. It features:
New tools and success stories offering practical options.
Transit being used to reinforce our communities.
Neighborhoods and developers building new coalitions.
Transit-Oriented Development moving from theory to reality.
New transportation and land use legislation supporting community building.
Rail-Volution seeks to educate, motivate, discover and create -- to be a catalyst to building communities with a sense of place. For more information, visit http://www.railvolution.com.
---
Land Protection Conference Planned
The Land Trust Alliance will convene its National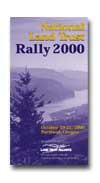 Land Trust Rally -- the only national conference especially for land trusts and those involved with private land protection efforts -- from October 19th through the 22nd in Portland, Oregon.
Called Rally 2000, it will bring together nearly 1,200 land trust professionals, volunteers, public agency staff, attorneys, appraisers, and other land conservation professionals from across the country and abroad. The agenda includes more than 100 workshops on legal issues, land transactions, conservation easements, stewardship, fundraising, public policy, and organizational development.
Each registrant will receive a workbook including sample documents, resources lists, case studies, and other information useful to land conservationists. A limited number of scholarships are available to help land trust staff and board members attend.
For more information, visit http://lta.org/rally.html.
---
This year's annual conference of the Energy-Efficient Building Association (EEBA) -- to be held on October 26th & 27th in Denver -- will gather participants to exchange information on the latest technology and products for peak-performing buildings.
Since 1982, the EEBA Conference has been a leading forum on best building practices. It includes presentations from leaders in the industry, and the EEBA EXPO has the latest in products.
For more information, contact EEBA at 651-268-7585, or visit their conference page online here.
---
There has been a surge of state government interest in using new renewable energy sources -- wind, solar, geothermal, and biomass power -- according to an analysis completed by the Union of Concerned Scientists (UCS).
"Over one-third of the states have made commitments that will increase the use of these cleaner energy sources in the United States by an estimated 6,200 megawatts (MW) -- 40 percent over 1997 levels," conclude the UCS researchers. "This exciting new development will provide enough clean power to meet the entire electricity needs of 4 million homes and reduce as much carbon dioxide -- the main greenhouse gas implicated in global warming -- as taking 3.4 million cars off the road or planting 816 million trees covering an area almost the size of Maryland and Delaware combined."
To review the key report conclusions and access the entire report, visit the UCS website here.

---
The News Briefs section of EcoIQ Magazine is underwritten by Gryphon Communications. To find out more about Gryphon Communications...
---