The News Briefs section of EcoIQ Magazine is underwritten by Gryphon Communications. To find out more about Gryphon Communications...
---
Energy Efficiency Rewards Homeowners
A new peer-reviewed study by the EPA shows that energy efficiency substantially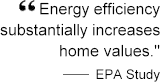 increases home values. The study shows that home values can increase $20 for each $1 in annual energy cost savings. For a typical energy efficient home, that can add between $5,000 and $10,000 to its value. To review the report, click here.
---
Cities Impact Endangered Species
In March, The National Marine Fisheries Service added nine species of salmon and steelhead in the Pacific Northwest to the endangered species list. Major urban areas, including Seattle and Portland, will be impacted significantly. Efforts to protect these species are likely to impact development and construction decisions and practices in the area. For more details, visit the Fisheries Service web site.

---
Poll Shows Support For White House Proposals
Eighty eight percent of Americans consider having access to parks and high quality outdoor spaces either extremely important (77%) or very important (11%) according to a new Wirthlin Worldwide poll just released by the American Society of Landscape Architects. Additionally, 85% of Americans would like to see more parks, outdoor recreation and community spaces in their area.
The White House recently proposed spending an additional $1 billion in fiscal year 2000 to expand federal protection of critical lands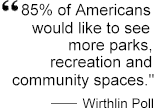 across America, help states and communities preserve local green spaces, and strengthen protections for oceans and coasts. The White House has also proposed creating a $10 billion bond program to help communities preserve green space, reduce traffic congestion, protect water quality and clean up abandoned industrial sites.
---
Climate Change & Ozone Protection Conference
The Second Annual Earth Technologies Forum, a conference and exhibition on global climate change and ozone protection technologies and policies, will be held September 27-29, 1999 in Washington, D.C. The conference is sponsored by the International Climate Change Partnership (ICCP) and the Alliance for Responsible Atmospheric Policy, in cooperation with the U.S. Environmental Protection Agency, the United Nations Environment Programme, and others.
"The Earth Technologies Forum is designed to provide information on two of the biggest environmental issues affecting industry today - climate change and ozone protection," said Kevin Fay, ICCP Director. "Technology development and dissemination are critical for industry's response to these environmental problems."
The conference will include an exhibition of climate and ozone-friendly technologies and programs. It also offers an opportunity to learn more about the important linkages between technology and policy issues.
"Compliance with the Montreal Protocol and efforts to achieve successful implementation of alternative technologies to restore the stratospheric ozone layer are goals that industry continues to stress," stated Dave Stirpe, Alliance Director. Therefore, the conference allows governments, industry, and others from around the world to share ideas about new technology. Last year nearly 800 participants from 40 countries attended the Forum.
There will be a focus on issues such as emissions trading, credit for early action to reduce greenhouse gas emissions, and voluntary programs to reduce emissions. The participants will also discuss issues such as the Clean Development Mechanism, technology transfer, inventories of gases, and long-term objectives. Technology sessions will focus on transportation, buildings, energy efficiency, energy supply, manufacturing, agriculture, forests, and electricity generation.
Ozone protection policy and technology sessions will include government perspectives on alternatives such as HCFCs and HFCs, illegal trade, air conditioning and refrigeration, foam manufacture, solvent use, methyl bromide, and aerosols.
For more information, visit the Forum's web site http://www.earthforum.com.
---
Seismic Rehab Standards To Prevent Damage
In an effort to limit building damage and save lives in earthquake-prone areas, the Federal Emergency Management Agency (FEMA) and the American Society of Civil Engineers (ASCE) will convert FEMA 273 - NEHRP Guidelines for the Seismic Rehabilitation of Buildings, and the related FEMA 274 NEHRP Commentary, into a prestandard.
Prestandard development is the first step in turning FEMA 273 and 274 into an ASCE/American National Standards Institute (ANSI)-approved national consensus standard, which can then be referenced by building codes and contracts.
The guidelines and commentary contain systematic guidance to help design professionals formulate effective and reliable rehabilitation approaches that will limit the expected earthquake damage to a specified range for a specified level of ground shaking. They allow building owners to select a design that not only protects lives, the traditional concern of building regulators, but also limits damage to the property. Over time, seismic rehabilitation costs are expected to decline as the standard impacts design and construction practices, thus spurring mitigation at the local level.
Under a cooperative agreement with FEMA, ASCE will conduct this effort over the next two years. ASCE will solicit user input to help clarify or improve the documents, and will conduct a public ballot of the prestandard, through which all stakeholders may provide comments before the standard is finalized.
For further information, contact Jim Rossberg of the Structural Engineering Institute of ASCE at 703-295-6196 or e-mail to jrossberg@asce.org.
---
Uniform Home Energy Ratings Pursued
The National Association of State Energy Officials (NASEO) has posted online an annotated version of interim guidelines for all providers of home energy ratings. These guidelines, when adopted in final form, will ensure that all home energy ratings are made in a consistent and uniform manner. A draft technical guide may be reviewed at http://www.natresnet.org/naseo.htm, and comments on the guidelines will be accepted until the final version is adopted in July. Comments may be sent to Jim Tait, Chair of the NASEO Residential Task Force, at jtait@nettally.com.
---
Federal legislation enables consumers to remove their names from the lists that credit-reporting agencies provide to credit-card issuers. There is now a new, easier single number for consumers to call to get off these mailing lists (in the past, they had their choice of several different numbers). The new toll-free number is 1-888-5-OPT-OUT (888-567-8688). Consumers are asked to give their name, address and social security number in order to have their name removed.
In addition, under the federal Driver's Privacy Protection Act, those state motor vehicle agencies that sell or rent residents' personal information to direct marketers (about half do so) must allow residents to restrict this information from being released. Usually, the state makes available an "opt out" form. If the resident sends in this form, the state cannot sell their name.
For more information on the law, see the Federal Trade Commission website, "Sharing Your Personal Information: It's Your Choice." http://www.ftc.gov/privacy/protect.htm.
---
EPA Issues Changes To Risk Management Program
EPA recently issued revisions to the Risk Management Program (RMP) rule, issued under section 112 (r) of the Clean Air Act, which is intended to prevent accidental releases of chemicals that could seriously harm people or the environment. The rule is also aimed at reducing the severity of releases that do occur. The changes include adoption of a new system to classify regulated process, addition of four mandatory and five optional RMP data elements, and the establishment of specific procedures to protect confidential business information.
Facilities covered by the RMP rule must implement a risk management program and submit a summary of the RMP to EPA. EPA will make the plan available to the public to improve accident prevention and emergency response practices. The rule was published in the Federal Register on Wednesday, Jan. 6, 1999 and can be accessed via EPA's website at http://www.epa.gov/fedrgstr/EPA- AIR/1999/January/Day-06/a99231.htm.
Information on submission of RMPs can be obtained by reviewing EPA's brochure, "Submitting Your Risk Management Plan," which can be found on EPA's website at http://www.epa.gov/ceppo/acc-pre.html.
Risk management plans must be postmarked no later than June 21, 1999. The necessary materials for electronic submission, plus information on the formatting of paper submissions, can be downloaded from EPA's home page at http://www.epa.gov/ceppo/rmpsubmt.html. Copies of RMP*Submit also are available for personal computers on diskette and on CD-ROM at no cost from the National Center for Environmental Publications and Information (NCEPI) by calling 1-800-490-9198. When ordering the CD-ROM, ask for EPA#550-C99-001. When ordering the diskettes, ask for EPA#550-C99-002. When ordering just the User Manual ask for EPA #550-B99-001.
For more information, contact Jennifer Browne of the Chemical Emergency Preparedness and Prevention Office, 202-260-7945, or send an e-mail message to browne.jennifer@epamail.epa.gov. Additional information is also on EPA's web site at http://www.epa.gov/ceppo.
---
Exterior Insulation Finish System Workshop
The workshop "Investigation and Remediation of Water-Related Problems in EIFS-Clad Wood-frame Buildings," will be held April 18 in Seattle, Washington. It is being sponsored by American Society for Testing & Materials Committee E-49. Related to Exterior Insulation Finish Systems (EIFS), the all-day workshop will cover six construction industry hotspots: Investigating and reporting EIFS field problems; repairing EIFS field problems; legal insurance, and media issues; EIFS products; building regulations and standards; quality assurance; and training and education.
To register, contact Workshop Chairman Robert Thomas, Jr., CMD Associates, Inc., 1800 Westlake Ave., N., #203, Seattle, WA 98109, phone 206-285-6811, e-mail rthomas@eifs.com or Stephen Mawn, ASTM, phone 610-832-9726, e-mail smawn@astm.org.
---
If you have a stack of old computer floppys, a program called "Floppies for Kiddies" collects them and donates them to schools. The program was started by CityLink, a Louisiana-based company that provides internet services. The project has already donated more than 25,000 disks to hundreds of schools.
You can donate disks formatted or unformatted. Students at Fontainebleau High School in Mandeville, Louisiana are helping with the project by formatting disks, when necessary, so that all the disks that are sent out to schools are ready to use.
The project accepts 3-and-a-1/2-inch floppy disks only. Donors must pay their own postage. Send the disks to USA CityLink Project, Attn. Floppies for Kiddies, 20349 Highway 36, Covington, LA 70433. For more information, see the project's website at http://www.usacitylink.com/citylink/disks.
---
If you are a builder who voluntarily includes energy efficiency practices into all aspects of home building, this is your opportunity to be recognized. Applications are due May 17th for the 2000 EnergyValue Housing Awards. For more information and an application form, visit the National Association of Home Builders Research Center http://www.nahbrc.org/builders/evha/index.html.
---
Market Your Building With An "Energy Star"
Commercial buildings may now be marketed using the Department of Energy's (DOE) Energy Star label if they rank in the top 25 percent of all commercial buildings for energy efficiency. DOE's Energy Star program has posted a benchmarking tool online. Using this tool, a Statement of Energy Performance may be generated. This statement must be verified, stamped, and signed by a professional engineer in order to qualify to use the Energy Star label. For more information, visit http://www.aspensys.com/esbl/office/index.html.
---
ASTM Symposium on Multiaxial Fatigue and Deformation
The Symposium on Multiaxial Fatigue and Deformation: Testing and Prediction will be held May 19-20, 1999 in Seattle, Washington. In addition to sponsoring this symposium, the American Society of Testing & Materials Committee E-8 will also hold concurrent meetings during the symposium to develop ASTM standards in the area of fatigue and fracture. All symposium attendees are welcome to participate.
The objectives of this symposium are to foster interaction among various researchers in the areas of multiaxial fatigue and deformation of engineering materials and to disseminate recent developments in analytical models and experimental methods. The papers presented at the symposium will enable development of standardized procedures for testing structural materials under multiaxial loading conditions.
The fee to attend this symposium is waived for ASTM members, symposium speakers, and session chairmen. For non-members, the fee is $75, if paid in advance, or $100 if paid on site. For a free program booklet containing registration and hotel information, contact Bode Buckley of ASTM at 610-832-9740 or e-mail bbuckley@astm.org.
For more information about the symposium, contact Symposium Co-Chairman Dr. Sreeramesh Kallluri, Ohio Aerospace Institute, NASA Lewis Research Center, 21000 Brookpark Rd., MS: 49-7, Cleveland, OH 44135, phone 216-433-6727, Fax 216-433-8300, or e-mail s.kalluri@lerc.nasa.gov or Co-Chairman Peter J. Bonacuse, Army Research Laboratory, NASA Lewis Research Center, 21000 Brookpark Rd., MS: 49-7, Cleveland, OH 44135, phone 216-433-3309, Fax 216-433-8300, e-mail p.j.bonacuse@lerc.nasa.gov or contact Bode Buckley (see above).
---
Water Law: Courts, Coercion & Collaboration
The Natural Resources Law Center, University of Colorado at Boulder, will focus its 20th summer conference on the principal problem-solving strategies in Western water law and policy: Courts, Coercion and Collaboration. The program will address Colorado courts, the public trust, the Snake River and other basin-wide adjudications, ESA, TMDL Implementation, the Clean Water Action Plan and CALFED. The June 11th program, "Collaboration in Western Water," will be available for separate registration and will include an analysis of collaborative processes in the Platte River Watershed.
The conference will be preceded, Tuesday evening, June 8th with a free public program on the Western Water Policy Review Advisory Commission Report. For more information, contact Donna Peavy at 303-492-1288, Fax 303-492-1297, or e-mail nrlc@colorado.edu. More information is also available at the conference web site at http://www.colorado.edu/Law/NRLC.
---
ASTM Symposium on Structural Integrity
The Second Symposium on Structural Integrity of Fasteners will be held May 19, 1999 in Seattle, Washington. This symposium, sponsored by the American Society of Testing & Materials Committee E-8 on Fatigue and Fracture, is open to all interested individuals.
This symposium is the second in a series on structural integrity of fasteners. It will consider a wide range of related issues. Papers will be presented in the following application areas: Failure Approaches, Analysis Techniques, Fatigue Strength, Crack Initiation and Propagation, and Testing Techniques.
The fee to attend this symposium is waived for ASTM members, symposium speakers, and session chairs. For non-members, the fee is $50 in advance, $75 on-site. For a free program booklet containing registration and hotel information, contact Bode Buckley of ASTM at 610-832-9740, or send an e-mail to bbuckley@astm.org.
For more information about the symposium, contact Symposium Chairman Dr. Pir M. Toor, Bettis Atomic Power Laboratory, POB 79, West Mifflin, PA 15122. Phone 412-476-6223, Fax 412-476-5151, or e-mail Bode Buckley above.

---
The News Briefs section of EcoIQ Magazine is underwritten by Gryphon Communications. To find out more about Gryphon Communications...
---