The News Briefs section of EcoIQ Magazine is underwritten by Gryphon Communications. To find out more about Gryphon Communications...
---
As EcoIQ Magazine enters its fourth year of online publication, we will pause to look back at some of the more significant and interesting News Briefs of the last twelve issues…
---
Study Finds Inadequate Road Maintenance Costs Drivers A Bundle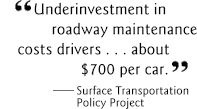 Maryland motorists are dodging more potholes these days, but Maryland transportation agencies have spent most of the money available for maintenance to expand highways rather than fixing them.
According to a report entitled Potholes and Politics, Maryland spends an annual average of about $20,000 per urban highway mile in need of repair, compared to a national average of more than $90,000.
This underinvestment in roadway maintenance costs drivers $166 million annually for added car repairs, or about $700 per car.
The report was released by the Surface Transportation Policy Project, a Washington, DC based non-profit group, inpartnership with the Chesapeake Bay Foundation, The Environmental Defense Fund, the Citizens Planning and Housing Association, the Baltimore Urban League, and 1000 Friends of Maryland.
---

"We recycle glass, paper and aluminum cans, but as a nation, we don't fully recycle our land. This pattern of throwing away our land must change if we are to create more livable communities," says Fort Wayne Mayor Paul Helmke.
Helmke, long a leader in the cause of reusing Brownfields, spoke in reaction to findings in the report Recycling America's Land released by The United States Conference of Mayors and the Environmental Protection Agency. Brownfields are abandoned or underutilized properties where expansion or redevelopment is complicated by real or perceived environmental contamination.
Among the report's major findings:
Within 180 U.S. cities, an estimated 178,000 acres of brownfields sites exist, a figure representing the combined total land area of Atlanta, Seattle, and San Francisco.
.
Two-thirds of the cities surveyed estimated that if their local brownfields sites were redeveloped, it would bring in additional tax revenues of between $955 million and $2.7 billion annually.
.
More than 675,000 jobs could be created on former brownfields sites.
Edward Thompson of the American Farmland Trust, also reacting to the report's findings, stressed the importance of recycling brownfield properties back into productive uses as a means of helping preserve farmland and other greenspaces.
For more details, click here.
---
Hot Nights, Summer In The City

A report from the Environmental Defense Fund details the potential consequences of global warming for New York City. Street, airport, and subway flooding and closures, coastal and beach

"The New York region of the future could be flooded with problems if the US doesn't take action."

- Dr. Michael Oppenheimer
EDF Chief Scientist

erosion, and heat waves and heat-related deaths could all increase markedly, according to the report.

"The infrastructure that keeps the New York region going, Kennedy, LaGuardia and Newark Airports, the train, subway and automobile tunnels are all at serious flood risk in a greenhouse future," said Dr. Janine Bloomfield, an EDF scientist and principal author of the study. "Weather related shut-downs of these facilities could become the rule, rather than the exception, if global warming is not controlled."

"The New York region of the future could be flooded with problems if the US doesn't take action to cut greenhouse gas emissions now," said Dr. Michael Oppenheimer, EDF chief scientist. "Our children and grandchildren could be faced with 90 degree-plus days nearly all summer long. Heat waves of such persistence and intensity would pose a grave health threat for the very young, the elderly and the impoverished." In 1995 there were 500 weather-related deaths during a Chicago area heat-wave.

For more details, click here.
---
Wind Energy Potential Dramatically Underscored
Wind energy's enormous potential is dramatically underscored by a study that finds that it could create 1.7 million jobs by the year 2020.
The study, entitled Wind Force 10, was commissioned from the international wind energy consulting firm BTM Consult by

the European Wind Energy Association (EWEA), the Danish Forum for Energy and Development, and the environmental group Greenpeace.
Wind Force 10 envisions the installation of 1.2 million megawatts (MW) of wind energy capacity worldwide by 2020 (one MW supplies about as much electricity as 250 average American homes use). At that level of development, wind would produce more electricity than the entire continent of Europe consumes today. In the process, 1.7 million jobs would be created and global emissions of carbon dioxide (CO2), the leading greenhouse gas, would be reduced by more than 10 billion metric tons.
The report calls on governments to establish firm targets for wind development, remove regulatory barriers, end subsidies to nuclear power and fossil fuels, and introduce a range of legally-enforced mechanisms to promote wind energy.
Wind has been the fastest-growing energy technology worldwide during the 1990s, expanding at an average rate of 22% annually during the decade and 40% annually over the past six years.
Highlights of Wind Force 10 include:
• 1.2 million MW of wind capacity would generate about 3 trillion kilowatt-hours (kWh) of electricity yearly, or more than the total 1996 electric generation of China, Asia, and Latin America combined.

• 3 trillion kWh also exceeds the current generation of the world's nuclear power plants, which produced 2.3 trillion kWh in 1998.

• The world's total wind potential is 53 trillion kWh, or more than 17 times the Wind Force 10 goal.

• The cost of wind energy is projected to decline from 4.7 cents/kWh today to below 3 cents/kWh by 2013 and 2.5 cents/kWh by 2020.
For more details, visit http://www.awea.org/news/news991005st.html
---
A new analysis finds that traffic congestion is getting worse in major American metropolitan areas because of sprawl and its impact on driving habits. Using new data from the Texas Transportation Institute, the companion analysis by the Surface Transportation Policy Project finds that neither population growth nor too few roads are to blame for the rise in traffic jams.
"This analysis shows just why drivers have felt so besieged by ever-increasing traffic. Sprawl is making just about everyone drive farther and more often, and that fills up the roads." said Roy Kienitz, Executive Director of STPP.
While the population in all 68 metro areas studied grew by 22 million since 1982, the increase in driving has crowded the roads with the equivalent of 70 million more drivers. For example, in Washington DC, a population increase of 765,000 feels like an increase of more than 2 million on the roadways, because residents are driving 77 percent more.
Sixty-nine percent of the increase in driving from 1983 to 1990 was due to factors influenced by sprawl, such as longer car trips and a switch to driving from walking or transit. Population growth itself was only responsible for 13 percent of the growth in driving.
The report, Why Are the Roads So Congested? A Companion Analysis of the Texas Transportation Institute's Data on Metropolitan Congestion, was released by the Surface Transportation Policy Project. The Project is a nationwide network of more than 250 organizations, including planners, community development organizations, and advocacy groups, devoted to improving the nation's transportation system.
STPP's full analysis is available at http://www.transact.org. The Texas Transportation Institute provided STPP with early access to its data. To view the Texas Transportation Institute's new report, please go to http://mobility.tamu.edu.
---
Barriers To Decentralized Power Production
DOE has released a comprehensive report that documents, for the first time, the barriers that often prevent electricity customers from generating their own electricity. The report, Making Connections: Case Studies of Barriers to Interconnection of Distributed Power, examined 65 "distributed power" projects and found that 89 percent of them had to overcome major utility-related barriers. Distributed power projects

are generally located where the electricity they produce is used.
According to the Energy Department report, many of the artificial barriers to distributed generation grow out of long-standing regulatory policies and incentives designed to support monopoly supply.
"Hundreds of millions of dollars and hundreds of thousands of work hours are lost each year due to power supply disruptions that could otherwise be avoided if the barriers to distributed electricity generation were removed," said Energy Secretary Bill Richardson.
In addition to improved reliability, distributed generation promises greater customer choices, efficiency advantages, and a host of environmental benefits. Technologies used for distributed generation often reduce the environmental impacts of electricity production, and include fuel cells, microturbines, photovoltaics, wind turbines, and combined heat and power systems.
The DOE report contains a 10-point action plan for reducing the technical, business practice and regulatory barriers that discourage interconnection of distributed generation technologies to the electricity grid.
To review the report, click here.
---
Livable Communities Seen As Critical Concern
In a survey conducted for The American Institute of Architects, state and local government policy makers were asked about their views concerning livable communities. Among the key findings:
• 78% of those surveyed say that compared to other political and economic issues, "livable community" concerns are either "one of the most important" issues or "very important."

• 68% believe that concern over "livable communities" is growing.

• Factors that most define what makes a community "livable" are air quality, educational facilities, parks/open spaces, and housing.

• Regional planning is considered by state and local policy makers to be most important in dealing with transportation and air and water quality.
To review the full report, click here.
---
Gas Guzzlers Drive Off With Billions
A new study by Friends of the Earth, Gas Guzzler Loophole: SUVs and Other Light Trucks Drive Off with Billions, shows that automakers are

using a loophole in the federal tax law to escape more than $10 billion a year in taxes while producing more polluting and gas-guzzling vehicles.
In 1978, a "gas-guzzler tax" was passed by Congress that applies to cars that get less than 22.5 miles-per-gallon. The worse the fuel efficiency, the higher the tax. However, SUVs and other light-trucks that get less than 22.5 miles to the gallon are exempt.
"This is the single largest subsidy for pollution in the world," said Sean Moulton of Friends of the Earth. "Why should a gas-guzzling SUV be exempt when a gas-guzzling sports car is not?"
John DeCicco, Transportation Program Director for the American Council for an Energy Efficient Economy, explains that "the gas-guzzler tax exemption is one key reason why excessively inefficient SUVs and other light trucks are running amok on the road. This loophole should be systematically and equitably closed."
For more information, visit http://www.foe.org/gasguzzler.
---
Growing Pains Encourage Growing Smart
The high infrastructure costs of new suburban communities and the threat to future economic growth have emerged as the two most important issues driving governors to attack regional growth problems, according to a new report by the National Governors' Association.
Growing Pains: Quality of Life in the New Economy illustrates how governors are choosing from a wealth of ideas and experiments underway in the United States as national attention increasingly focuses on growth-related issues. The report presents examples of successful efforts by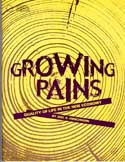 governors in more than 25 states and is a culmination of a year-long study by NGA's Center for Best Practices.
The report emphasizes there are two sides of the growth problem -- rapid development of new "greenfields" (suburban communities that continue to expand into rural areas), and the need for more development in older urban cores and suburbs. According to Growing Pains, shifting more growth to the older areas with existing infrastructure is emerging as a key strategy.
Delaware Governor Thomas R. Carper, Chairman of the NGA Center for Best Practices, emphasized the role governors play influencing growth. "Governors have enormous opportunities to improve statewide planning to enhance and shape economic development, protect natural resources and preserve each community's quality of life," said Carper. "They have the opportunity to work individually or form a collaboration between state and local governments and the public and private sector to affect change."
"Smart growth does not mean no growth, or slow growth, but rather quality growth that supports quality of life and place," Carper added.
---
Leading Investors Urge Sustainability Reporting
Thirty-nine leading financial investors, managing combined assets in excess of $140 billion, have urged the CEOs of the 500 largest US companies to undertake standardized sustainability reporting. Sustainability reporting, as defined by the Global Reporting Initiative (GRI), links the three aspects of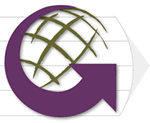 sustainable business practices - economic, social and environmental - in a standardized format reflective of financial reporting standards that have been common practice for decades.
The investors are seeking to expand a growing corporate trend of reporting on critical corporate social and environmental practices. Indeed, a recent study by the Institute for Environmental Management and consultants at KPMG found that more than 35 percent of the world's largest companies are already voluntarily releasing environmental reports. The Global Reporting Initiative, convened by the Coalition for Environmentally Responsible Economies and the United Nations Environmental Programme, has incorporated the active participation of hundreds of business, accountancy, environmental, human rights, and labor organizations from around the world in designing voluntary reporting practices.
Thirty leading international corporations, including AT&T, Bristol-Myers Squibb, British Airways, General Motors, Kirin Brewing, NEC, Nokia, and Shell have used GRI's Sustainability Reporting Guidelines. For more details, visit the Global Reporting Initiative website here.

---
The News Briefs section of EcoIQ Magazine is underwritten by Gryphon Communications. To find out more about Gryphon Communications...
---