The News Briefs section of EcoIQ Magazine is underwritten by Gryphon Communications. To find out more about Gryphon Communications...
---
Growth-Related Votes Reflect Complexity
Voters in the November 2000 election decided among a broad range of state and local issues that affect the pace, quality, and shape of growth in their states and communities.
A post-election analysis of 35 statewide and 19 local measures by The Brookings Institution entitled Growth at the Ballot Box showed that:
Most measures to preserve open space, expand parks, and preserve farmland were popular and successful.
.
Voters often approved measures to increase transportation choices. Washington state voters defeated a measure that would have shifted funding from mass transit to highways. However, ambitious transportation measures in New York and Austin failed.
.
Measures creating regulatory restrictions on growth were controversial. Two state measures to create stringent local growth restrictions were defeated, and Oregon voters approved a measure for property owner compensation that could undermine Oregon's land use laws.
For a more detailed analysis, click here.
---
Efficient Appliances Would Slow Climate Change
The Pew Center for Climate Change has released a new report, Appliances and Global Climate Change: Increasing Consumer Participation in Reducing Greenhouse Gases, which explains why it makes a big difference which home appliances U.S. consumers buy.
"Residential electricity consumption -- much of it from major home appliances -- accounts for about one fifth of U.S. energy-related greenhouse gas emissions," according to the report. "New energy-efficient appliance models that use as little as half of the energy as their predecessors are available on the market."
The problem, the report finds, is that there has been little consumer response to the marketing of energy-efficient appliances. "Although consumers stand to save money over time from smart appliance choices, energy-efficient products and programs to encourage their use have had limited success in the marketplace."
The report looks at how consumers decide which major home appliances to buy, and suggests ways in which policy makers could encourage the use of more energy-efficient products. To review the full report, click here.
---
Eco-Industrial Development Strategies Promoted
A new National Center for Eco-industrial Development, to be run cooperatively by the University of Southern California and Cornell University, will be created to facilitate job growth and sustainable industrial expansion in the Nation's most economically distressed communities. It will be funded by a grant from the Economic

Development Administration (EDA) of the U.S. Department of Commerce.
The Center will work to promote industrial ecology, establish eco-industrial parks, and expand use of environmentally benign manufacturing processes and techniques. These strategies will improve a community's development potential while preserving the environment.
Researchers for the Center will develop national training programs, initiate a consortium of university researchers working on eco-industrial development, develop a website, provide technical assistance, and prepare web-based resource manuals.
"EDA is a leader in promoting innovative economic development techniques. Our partnerships with the academic world, community-based organizations, and local governments are helping spread the word about the advantages of eco-industrial development strategies," said Assistant Secretary for Economic Development Arthur C. Campbell. "Eco-industrial development can be used to turn brownfield sites and other underutilized areas into economic boons for surrounding communities."
For more details, visit http://www.doc.gov/eda/html/ecoindustcntr.htm.
---
Beyond Gray Pinstripes: Greening Business Ed
Business education is getting greener, and Beyond Gray Pinstripes 2001 will identify business schools that are on the cutting edge of incorporating environmental and social impact management into their MBA coursework and extracurricular activities.
Business school deans, faculty, and students are encouraged to participate in a survey which will collect the information upon which the report will be based. Sponsored by the Aspen Institute Initiative for Social Innovation Through Business and the World

Resources Institute, the 2001 report is the next in a series tracking the greening of business education.
"For business to become a positive force for environmental quality and social sustainability, business leaders need skills that enable them to identify, analyze and respond to social and environmental challenges and opportunities," explain the project sponsors. "Business schools remain the best venues for providing these tools to future managers."
The 1999 report gave top marks to the business schools at Cornell, Stanford, Tulane, George Washington University, the University of Michigan and the University of North Carolina.
For more details, survey forms, business school information, and related material, click here.
---
A rising tide of urbanization engulfed almost 70,000 acres of California landscape from 1996 to 1998, according to a state Department of Conservation (DOC) report that tracks land use conversion. More than 43,000 acres of this new urban land, an area about the size of the city of Modesto, was developed on agricultural land.
The rate of urbanization was up 25 percent from the previous two-year survey period, the DOC says in Farmland Conversion Report, 1996-98. Southern California and the agriculturally rich Central Valley continued to be focal points of agricultural land-to-urban land conversions.
"The state has produced jobs and opportunity at an impressive rate in recent years, bringing more people and more development," Department of Conservation Director Darryl Young said. "As we look toward the future, it is imperative that economic growth and California's world-leading agricultural economy are both allowed to flourish."
For more details, click here.
---
Growing Pains Encourage Growing Smart
The high infrastructure costs of new suburban communities and the threat to future economic growth have emerged as the two most important issues driving governors to attack regional growth problems, according to a new report by the National Governors' Association.
Growing Pains: Quality of Life in the New Economy Illustrates how governors are choosing from a wealth of ideas and experiments underway in the United States as national attention increasingly focuses on growth-related issues. The report presents examples of successful efforts by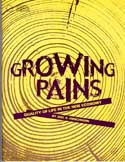 governors in more than 25 states and is a culmination of a year-long study by NGA's Center for Best Practices.
The report emphasizes there are two sides of the growth problem -- rapid development of new "greenfields" (suburban communities that continue to expand into rural areas), and the need for more development in older urban cores and suburbs. According to Growing Pains, shifting more growth to the older areas with existing infrastructure is emerging as a key strategy.
Delaware Governor Thomas R. Carper, Chairman of the NGA Center for Best Practices, emphasized the role governors play influencing growth. "Governors have enormous opportunities to improve statewide planning to enhance and shape economic development, protect natural resources and preserve each community's quality of life," said Carper. "They have the opportunity to work individually or form a collaboration between state and local governments and the public and private sector to affect change."
"Smart growth does not mean no growth, or slow growth, but rather quality growth that supports quality of life and place," Carper added.
For more information, to download the whole report as a pdf file, or to purchase the report, click here.
---
Study Disproves Jobs Vs. Environment Myth
States with the best environmental records also offer the best job opportunities and climate for long-term economic development. That's the conclusion of a study by the Institute for Southern Studies, a non-profit research center in Durham, North Carolina.
"In the 2000 elections, political leaders were still debating about whether protecting the environment will cost jobs," says Chris Kromm, a co-author of the report and Director of the Institute. "What this study finds is that the trade-off myth is untrue. At the state policy level, efforts to promote a healthy environment and a sound economy go hand-in-hand."
The study, entitled Gold and Green 2000, uses separate lists of indicators to evaluate both each state's economic performance and the stresses on the natural environment. The 20 economic indicators include annual pay, job opportunities, business start-ups, and workplace injury rates. The 20 environmental measures range from toxic emissions and pesticide use to energy consumption and urban sprawl.
The report ranks states on each indicator, and the sum of ranks produces a state's final score. Comparing the two lists reveals remarkable correlations:
Seven states rank in the top 15 for both economic and environmental health. Vermont, Rhode Island and Minnesota rank in the top six on both lists. Other "top performers" with high marks on both scales are Colorado, Maryland, Maine, and Wisconsin.
.
Conversely, 10 states -- mostly in the South -- are among the worst 15 on both lists. For example, Louisiana ranks 48th on economic performance and 50th on the environment. Others in the cellar are Alabama, Texas, Tennessee, Mississippi, Indiana, Arkansas, West Virginia, Kentucky, and South Carolina.
To review the complete report, click here.
---
Industrial Energy Savings Opportunities
A new report, Emerging Energy-Efficient Industrial Technologies, describes new opportunities to save energy in the industrial sector. Prepared by the American Council for an Energy Efficient Economy (ACEEE), it focuses

on technologies that provide both environmental and business benefits.
The report demonstrates that the United States is not running out of technologies to improve energy efficiency and economic and environmental performance, and will not run out in the future. It shows that many of the new technologies have important non-energy benefits, ranging from reduced environmental impact to improved productivity and worker safety, and reduced capital costs.
To review the Executive Summary or order the full report, click here.

---
The News Briefs section of EcoIQ Magazine is underwritten by Gryphon Communications. To find out more about Gryphon Communications...
---