---
Feature Articles:
Livability: The Perspectives of Local Government
Urgent Infrastructure Needs Remain Unmet
Economy Grows, Global Warming Gases Don't
---


arks and the conservation of natural and agricultural lands contribute billions of dollars every year to local economies across the nation, according to a new report by the Trust for Public Land. The Economic Benefits of Parks and Open Space: How Land Conservation Helps Communities Grow Smart and Protect the Bottom Line provides an overview of research findings and examples of communities that are protecting the landscapes that contribute to their quality of life and economic well-being.
The report is intended to help citizen activists and local governments make the case for protecting the valuable open spaces that in many areas of the country are threatened with sprawl or unwise development.
"Accumulating evidence indicates
that open space conservation is not
an expense but an investment..."
- Will Rogers
Trust for Public Land
"We often hear that communities cannot afford to 'grow smart' by conserving open space," says Will Rogers, president of the Trust for Public Land. "But accumulating evidence indicates that open space conservation is not an expense but an investment that produces important economic benefits. Open space protection is good for a community's health, stability, beauty, and quality of life. It is also good for the bottom line."
Grow Smart and Protect the Bottom Line includes a rich body of evidence in support of its key conclusion. That evidence is summarized below.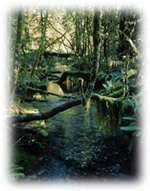 Protected open space is key to the high quality of life that attracts new residents and businesses. Corporations cite access to open space and greenways among the key reasons for choosing a business location. In the eight years after Chattanooga, Tennessee redeveloped its riverfront to include pedestrian-friendly greenways, the number of businesses and full-time jobs in the downtown district more than doubled, and assessed property values were up more than $11 million -- an increase of 127.5 percent.
Urban parks and open space help to revitalize cities by attracting residents, tourists and new businesses while boosting the value of nearby properties. In New York City, refurbished Bryant Park has sparked a rejuvenation of commercial activity near the park's midtown location. The park's thousands of daily visitors patronize local businesses, and occupancy rates in surrounding office buildings are climbing, along with tax revenues to the city. In Spartanburg, South Carolina, property values in the central business district increased 325 percent after a traditional downtown park was built as part of a new commercial office complex there. In San Antonio, Texas, the well-known Riverwalk park outdraws the Alamo as the single biggest attraction in the city's $3.5 billion tourist economy.
Open space protection helps communities grow smart, avoiding the higher service costs of low-density sprawl development. In Loudon County, Virginia -- the fastest growing county in the Washington, D.C. area -- costs to service 1,000 new development units exceeded their tax contribution by as much as $2.3 million. The taxpayer cost of servicing each housing unit in the island community of Nantucket, Massachusetts, was found to average $265 a year more than each unit contributed in taxes.
Recreation is on its way to becoming a leading industry on public lands - generating an annual $40 billion in economic activity. The National Park Service estimates that in 1993 national park visitors contributed more than $10 billion in direct and indirect benefits to local economies. Sport fishing alone contributed $108.4 billion to the U.S. economy in 1996, supporting 1.2 million jobs. A single mountain bike trail near Moab, Utah, generates $1.3 million in annual receipts for that town. Nationwide, visitors to national wildlife refuges contribute more than $400 million annually to local businesses.
Conserving watersheds and flood plains could save billions in water treatment costs and flood-related losses each year. The purchase of 16,000-acre Sterling Forest -- a watershed area for New York and New Jersey -- cost $55 million, compared to an estimated $160-million water treatment plant that would have been required had the land been developed. Similarly, the purchase of 8,000 acres of wetlands near Boston precluded the need for a $100 million system of dams and levees while preventing an estimated $17 million in flood damages each year. Officials in the Napa Valley in Northern California are acquiring 500 acres of floodplain along the Napa River as part of a $160 million river-management plan to prevent recurring flood damages that have totaled $500 million.
America's prime farmlands are disappearing to development at the rate of nearly 50 acres an hour. Protecting agricultural lands safeguards a $202.3 billion agricultural economy and helps keep local taxes low. More than 40 studies from 11 states show that unlike some residential developments, farms pay more in taxes than they demand in roads, utilities, schools, and other taxpayer-supported services. According to the U.S. Department of Agriculture, farm receipts reached a record $202.3 billion in 1997, cycling $50 billion in farm income through local communities. Officials in Fresno, California, estimate that the loss of 1,000 acres of farmland removes $15 million annually from the local economy.