---
Feature Articles:
Sprawl Causes Costly Tree Loss
What You Can't See Could Cost You
Progress In Sustainable Forest Certification
Myths Impede Energy Savings
Brownfields Development A Success
Environmental Applications For New Chemical Microtechnology
---


our common energy myths cost homeowners, businesses and public agencies millions of dollars each year in utility costs. "These myths arose in 1940s and 1950s when energy was cheap and technologies were inefficient," said Utah Office of Energy Services Information Specialist Denise Beaudoin.
"The most persistent myth is that you should leave fluorescent lights on because it takes more energy to turn them off, then on again. New fluorescent fixtures with electronic ballasts should be turned off whenever you leave a room. The savings are instantaneous. With older fluorescent light technology, the two-minute rule prevails -- when you leave a room for more than two minutes, turn the lights off." This myth may be the reason school and business lights are often left on long after business hours and only turned off after cleaning crews have finished their work. According to Beaudoin, an extra hour a day of unnecessary lighting can increase electricity costs by 5 to 10 percent per month.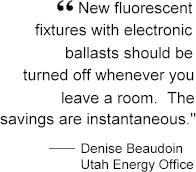 The other three myths are similar. "Many people still believe that furnace thermostats should not be turned down at night because it takes more energy than it saves to reheat a home or building in the morning," said Beaudoin. For homes with no infants or elderly residents, a night-time setting of 60 to 65 degrees is recommended with 55 to 60 degree setting for office buildings and schools. "Homes with night-setback thermostats and buildings with computerized energy management systems warm up before residents arise or workers arrive," said Beaudoin. "Setting the thermostat back at night in unoccupied buildings can cut energy costs by 10 percent a month," she added.
A third energy myth is that you should leave your car running at drive-up windows because it takes more energy to restart the engine. "For most gasoline powered vehicles, we recommend turning your car off if you expect to idle for more than thirty seconds," said Beaudoin. "Each two minutes an automobile idles is equivalent to driving one mile. And, an idling car produces more harmful emissions that contribute to air pollution."
Leaving computers on overnight to prevent computer damage is the fourth myth. Personal computers with an Energy Star rating can be put in 'sleep mode' when not in use to save energy. Personal computers in homes, schools, or offices should be turned off during lunch hours, overnight and on weekends. "It pays to shut them off," said Beaudoin. "In a recent Saturday visit to a local building, twenty-seven computers and monitors had been left on over the weekend. Those twenty-seven computers will cost between $800 and $900 more a year in electricity charges."