ith home mortgage interest rates at their lowest percentages in years, many people are jumping into the housing market. But really look before you leap, say civil engineers, otherwise you may miss the warning signs of a costly structural problem that strikes more homes each year than floods, tornadoes or hurricanes.
When looking at a house, many home buyers check to see if the siding or the roof is in good shape or if the carpet needs replacing, but most will merely glance at the foundation or the soil around it.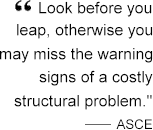 According to the American Society of Civil Engineers, one of the most common and least recognized problems causing severe structural damage to houses lies underground. Expansive soils and clay underneath a house will expand and contract with changes in the moisture level in the soil. This can raise or crack the foundation or push in the walls.
About half of the houses built each year in the U.S. are founded on expansive clays. About half of these (one-fourth of new houses) will suffer some damage. The repair costs can run from 10 to 50 percent or more of the cost of the house. Expansive clays dominate in some major cities such as Houston and Denver, and occur to some extent in practically every state in the U.S.
"Home buyers should know that expansive means expensive, particularly if the problem is not taken into account during design and construction," said Richard L. Handy, Ph.D., a geotechnical engineer and author of the book The Day the House Fell: Homeowner Soil Problems - From Landslides To Expansive Clays And Wet Basements.
It is normal for new houses to "settle," and slightly shift, which is mostly a one-time event. But, expansive clay never wears out and the damage can reoccur whenever there are changes in the soil's moisture level, says Handy.
Home buyers can look for evidence of damage from expansive clays in tilted floors and cracks in walls, especially in doorways and windows where stresses are most concentrated. Small cracks are common, but if there are larger cracks that look like they have been patched, it is best to call in an engineer to investigate. Another sign of expansive clay is shrinking or cracking of the soil into a honeycomb pattern when it is dry.
Evidence of soil problems also can be found by looking around the neighborhood. Are there sunken driveways, streets or yards; pools of water or houses with cracked foundations? Are older retaining walls or trees leaning?
Expansive clay is found all over the country and usually occurs in black, brown or gray soils - but not red soil. In moderate amounts, expansive clay does not pose an engineering problem, but it can be concentrated by erosion and redeposition, which tends to concentrate the clay. Lake beds, river deltas and coastal plains are primary locations for expansive clay deposited by rivers.
Damage from expansive clays can be prevented or managed. Before building, contractors can replace the clay with non-expansive soil or stabilize the soil with hydrated lime. Contractors also can use a slab-on-grade foundation (no basement), a deep foundation, or protect basement walls by cutting the soil at an angle so pushing is directed upward instead of against the wall. Other remedies include controlling the amount of moisture in the soil.
Whether there are expansive clay problems or not, home owners always should make sure water is not running towards the house and pooling against the foundation. That could result in a flooded basement. The house should have a roof overhang and roof-line gutters with downspouts that deposit water runoff at least four to six feet away from the house.
Above all else, say civil engineers, don't just rely on the real estate agent. Always get your home inspected by a licensed home inspector first. If there are any concerns about soil problems contact a geotechnical engineer, or if you suspect structural problems call on a structural engineer to investigate before you buy.
Homeowners or prospective buyers can gain more information on how to recognize and handle soil problems through The Day the House Fell: Homeowner Soil Problems - From Landslides To Expansive Clays And Wet Basements, which is a down-to-earth guide that uses catchy humor to pique interest and avoid being preachy. The book is by geotechnical engineer Richard L. Handy, Ph.D, and is published by ASCE Press.
For more information on the book or to find an engineer in your area, contact the American Society of Civil Engineers at 1-800-548-ASCE (2723).