---
Feature Articles:
Sprawl Causes Costly Tree Loss
What You Can't See Could Cost You
Progress In Sustainable Forest Certification
Brownfields Development A Success
Environmental Applications For New Chemical Microtechnology
---


new study by the national conservation group American Forests documents a dramatic loss of tree cover in the southeast portion of the Chesapeake Bay watershed, including the greater Baltimore-Washington metropolitan area. The analysis calculates previously unreported costs of tree loss due to urban sprawl. Lost benefits of tree cover are related to air and water quality and stormwater runoff in this increasingly urbanized region.
The following images depict vegetation change in the Baltimore-Washington corridor: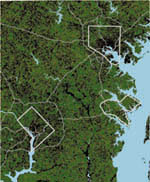 Southeast Chesapeake Bay watershed, 1973
.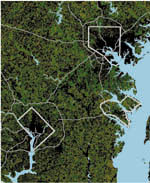 Southeast Chesapeake Bay watershed, 1985
.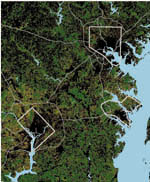 Southeast Chesapeake Bay watershed, 1997
.
Images courtesy of:
American Forests,
910 17th St. NW, Suite 600, Washington D.C. 20006.
Media Contact: Craig Noble, 202-955-4500, ext. 234. crnoble@amfor.org
"This is just the latest evidence of why we need to change our development patterns before it is too late," said Maryland Governor Parris N. Glendening, whose 1997 Smart Growth and Neighborhood Conservation initiative has received national acclaim. "The American Forests study, coupled with the steady loss of agricultural and other resource lands in the Chesapeake Bay region, ought to sound the alarm for every American."
The analysis of three satellite images from 1973, 1985 and 1997 found that areas with high vegetation and tree canopy coverage dropped from 55 percent (6.3 million acres) to 38 percent (4.4 million acres) of the total area (11.4 million acres). During the same 24-year period, areas with very low tree cover increased from 35 to more than 50 percent of the total study area. High canopy coverage was defined as 50 percent tree cover or more. Very low canopy coverage was defined as less than 20 percent tree cover. The average tree cover throughout the study area declined from 51 percent to 39 percent.
"The dominant ecological feature here just 30 years ago was heavy forests. Today it is development and lands sparsely covered with trees. These changes are so large they threaten to undermine many important natural functions performed by forest ecosystems," said Gary Moll, vice president, American Forests Urban Forest Center.
Analysis of a 1.5-million-acre area surrounding the Baltimore-Washington corridor shows similar trends. Average tree cover declined just slightly more than the larger region, from 51 to 37 percent. Areas with heavy tree cover declined from 55 to 37 percent, and areas with little or no tree cover increased from 31 to 49 percent.
The loss of tree cover and increase in impervious surfaces, such as roads and buildings, increased the cost of stormwater management in the Baltimore-Washington area. The study found that stormwater flow during a peak storm event increased by an estimated 540 million cubic feet or 19 percent. Replacing this lost stormwater retention capacity with reservoirs and other engineered systems would cost $1.08 billion ($2 per cubic foot). This service was provided previously by trees, vegetation and natural soils, which slow stormwater movement, lower total runoff volume, reduce costly flooding, and improve the Chesapeake Bay region's overall water quality.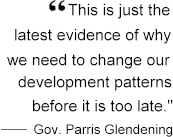 Air quality control costs also grew. The lost tree canopy would have removed about 9.3 million pounds of pollutants from the atmosphere annually at a value of approximately $24 million. Baltimore-Washington's urban forest improves air quality by removing nitrogen dioxide (NO2), sulfur dioxide (SO2), carbon monoxide (CO), ozone (O3), and particulate matter 10 microns (PM10) or less.
"The American Forests study highlights the urgency which must be placed on maintaining tree cover and forests throughout Maryland and the entire Chesapeake Bay watershed," Senator Paul S. Sarbanes (D-Md.) said. "By taking steps now to replenish a healthy tree cover, we will not only help to restore the Bay's natural filtering system but will also provide vital habitat for fish and wildlife, as well as for recreation areas for generations to come."
American Forests used Geographic Information Systems (GIS) technology and its unique CITYgreen software to measure the region's urban forest and values. The data prepared for the analysis is available to city and county governments. American Forests recommends they use it to conduct more detailed, neighborhood-level analyses to measure their urban ecological values and better incorporate environmental systems into their planning processes. Healthy cities should have an average tree canopy coverage of 40 percent to ensure their ecological, economic and social sustainability. Rural areas should set a goal of at least 50 percent.
"Understanding the changes we've made on the landscape helps us understand how we can take steps to revitalize it," said Deborah Gangloff, American Forests executive director. "We do know that planting trees is one of the most cost-effective ways to capitalize on the natural services provided by healthy ecosystems."
American Forests has committed to planting one million trees in the Bay watershed. To review the full report, visit http://www.clark.net/pub/pkilpe/ChesapeakeReport. American Forests, founded in 1875, is the oldest national nonprofit citizen conservation organization. Its website is at http://www.americanforests.org.