---
Feature Articles:
Right To Know To Grow
Sprawl Causes Costly Tree Loss
What You Can't See Could Cost You
Progress In Sustainable Forest Certification
Brownfields Development A Success
Environmental Applications For New Chemical Microtechnology
---



ulfilling Vice President Gore's 1998 Earth Day commitment to expand the public's right to know about toxic chemicals released into local communities, the EPA has proposed to increase public reporting of such releases by almost 25 percent. Under this proposal, it is anticipated that an additional 17,000 TRI reports will be added to the existing 71,000 reports submitted annually. EPA has found that each chemical being proposed meets the criteria for chronic human and environmental health effects.
The proposed rule for the first time would lead to more reporting of environmental releases of several persistent, bioaccumulative toxic chemicals (PBTs), including dioxin and mercury. Persistent, bioaccumulative chemicals are those that do not break down quickly and remain in the environment for long periods. They bioaccumulate, or build up, in the food chain. The proposed rule would provide the public with important information on releases of a number of PBTs including dioxins, mercury, PCBs, aldrin, heptachlor and others that are known to cause a variety of health hazards at low doses.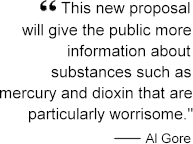 "Strengthening communities' right-to-know about toxic chemical releases to the environment is a top priority for this Administration," Gore explained. "This new proposal will give the public more information about substances such as mercury and dioxin that are particularly worrisome because they persist so long in the environment. Armed with this data, citizens can make informed decisions about how best to protect the health of their families."
Under the current rules, facilities are not required to report their PBT releases to the air, water, and land unless they manufacture or process more than 25,000 pounds annually or use more than 10,000 pounds annually of the chemical. These high thresholds severely limit the reporting of PBTs. Under the new proposal, thresholds would be lowered to 100 pounds or 10 pounds, depending on the extent to which the chemical persists and bioaccumulates. The proposed rule was published in the Federal Register on January 5, 1999 and is available on the EPA website at http://www.epa.gov/fedrgstr.
General information on the Toxics Release Inventory is available at http://www.epa.gov/opptintr/tri.