---
Feature Articles:
Earth Day 2000: Launch of the Earth Day Network
A Powerful Tool for Sustainable Development
The Costs Of Auto Transportation High. . . & Subsidized By Non-Drivers
Opportunities In Nonpoint Source Regulation
---


he recent outbreak of the dangerous Pfisteria microbe in the Chesapeake Bay area demonstrates not only the profound effect that agriculture can have on the health of waterbodies and the economies they sustain, but also the differences in how states respond to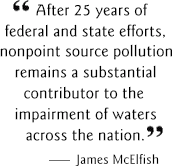 the problem of so-called "nonpoint source pollution." Maryland temporarily closed down several rivers that feed the bay, while Virginia allowed fishing and recreation to continue.
In Enforceable State Mechanisms for the Control of Nonpoint Source Water Pollution, the Environmental Law Institute shows how and why a diverse array of state mechanisms arose over the years to combat this significant cause of water degradation. Looking at all 50 states, the District of Columbia, and Puerto Rico, the Institute examines several responses that state and federal decisionmakers can draw upon in filling regulatory gaps among the programs.
"After 25 years of federal and state efforts under the Clean Water Act, nonpoint source pollution remains a substantial contributor to the impairment of waters across the nation," said James McElfish Jr., a Senior Attorney at the Institute and author of the report. "Without federal enforcement authority in this area, states have had to innovate and improvise."
Nearly all states have "general discharge" prohibitions, but their effect varies greatly depending on how they are implemented and on what activities are prohibited, what materials may not be discharged, and where the discharge occurs. Some state laws require proof of environmental harm, entailing a difficult process to show causation. Other state laws target particular practices, including forestry, earth moving, and agriculture. The study also shows that many mechanisms vary within states, watershed by watershed or activity by activity. In addition, agricultural activities are exempted in numerous states.
"Where water quality improvement is needed and voluntary programs are no longer sufficient, it is now possible to identify enforcement responses," the report concludes. "This study reveals the types of authorities that states are already using in these situations, and responses that either the states or the federal government could use in filling gaps."
For more information
Copies of the report cost $15 and can be ordered by calling 800-433-5120 or 202-939-3844 or by e-mail to orders@eli.org. To download for free, or to order online, visit http://www.eli.org/rrenforceable.htm.