ir quality information will be distributed directly to Southern Californians with pagers beginning this January in a test of a fully automated and personalized system for alerting people to unhealthful air.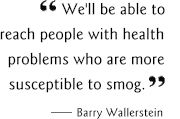 The South Coast Air Quality Management District (AQMD) is teaming up with several paging services in this seven-month pilot program. If successful, the District will begin offering the air pollution information to residents throughout the area by next smog season. This service will be free to participants during the test period.
Likely users include coaches, teachers, joggers, students, parents, respiratory patients, and others. They would receive instant notification of Stage I smog episodes in their area on personal alphanumeric pagers. AQMD will provide the notifications to paging service firms, but once the test phase is completed and the service goes full-scale, individuals would have to purchase their own pagers and paging service.
"In the past we've had to rely on the mass media to alert most people when the air is unhealthful," said Barry Wallerstein, AQMD's executive officer. "Now, technology will allow us to communicate directly with people through existing paging networks.
"For the first time, we'll be able to directly alert coaches and recreation department directors of unhealthful air so they can reschedule activities to minimize the exposure of children. We'll be able to reach people with health problems who are more susceptible to smog.
"Readily available, low-cost, text pagers also will allow a wider range of adults to obtain instant smog alerts so they can better plan their own activities, such as jogging, which increase exposure to smog."
More than 30 air monitoring stations throughout the region measure air pollution around the clock. The data is fed via modem and phone line to a central computer at AQMD headquarters in Diamond Bar.
For the paging system test, AQMD's computer will be programmed to automatically notify the paging service companies whenever high levels of pollution are recorded. These companies then will initiate an alphanumeric page conveying the information to customers participating in the test program.
For more information
Individuals and paging service providers are invited to participate in the pilot program. Interested parties should call AQMD at 909-396-3196.