---
Feature Articles:
Earth Day 2000: Launch of the Earth Day Network
A Powerful Tool for Sustainable Development
The Costs Of Auto Transportation High. . . & Subsidized By Non-Drivers
Opportunities In Nonpoint Source Regulation
---


he American Council for an Energy-Efficient Economy (ACEEE) has released a new report, The Costs of Transportation in Southeastern Wisconsin, analyzing the financial, environmental and other societal costs of passenger transportation.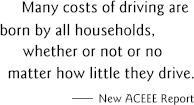 Highlights include the finding that total transportation-related costs average more than $10,500 per household annually. These costs include private automobile ownership and maintenance expenses as well as the cost of roads, accidents, pollution, and congestion. Over 98 percent of this total results from the use of cars and light trucks.
Many costs of driving are born by all households, whether or not or no matter how little they drive. According to report author and ACEEE Senior Associate John DeCicco, "these costs take the form of higher societal and government expenses, including higher property taxes and higher medical costs." For example, the additional costs of medical care, serious injuries, and deaths due to auto accidents -- beyond what is covered by auto insurance -- are estimated at over $2,600 per household annually. Environmental costs, including those due to increased hospitalizations for asthma and other respiratory problems related to air pollution, amount to another $800 per household annually.
The report also finds that, between 1987 and 1992, the region exported $420 million in locally collected gasoline taxes and fees to other parts of the state and the nation. "Policy makers and citizens should take note," says Rob Kennedy of Citizens for a Better Environment, "that Southeastern Wisconsin's seven counties got back only 78 cents of each dollar its households paid in federal and state gasoline taxes and related fees." This revenue loss, largely a subsidy to road building programs in the rest of the state, is little remedied by recent legislation.
Noting the funding imbalances and high costs identified in this report, "state and local officials should revisit the regional plans," says Allison Spitzer of CBE. "Revised plans that promote transit-oriented development and pricing reforms would provide a future transportation system that is less dependent on automobiles and their high social costs."
The report is the first phase of a larger study for Southeastern Wisconsin. A second phase report, to be completed later this year, will examine the long-term costs to the region of a "Sprawl Trends Continued" scenario compared to a "Livable Neighborhoods" plan, utilizing travel forecasts generated by the Southeastern Wisconsin Regional Planning Commission.
For more information
The full report, The Costs of Transportation in Southeastern Wisconsin, can be ordered for $22 (postpaid) from the ACEEE Publications Office, phone 202-429-0063, fax 202-429-0193. The executive summary of the report is located at http://www.aceee.org/pubs/t982.htm.