---
Feature Articles:
Earth Day 2000: Launch of the Earth Day Network
A Powerful Tool for Sustainable Development
The Costs Of Auto Transportation High. . . & Subsidized By Non-Drivers
Opportunities In Nonpoint Source Regulation
---


he 1997 Taxpayer Relief Act may be the most significant environmental legislation enacted by Congress in recent years, according to a new report by the Environmental Law Institute. The law, which eliminates tax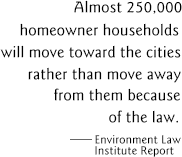 liability entirely for the vast majority of capital gains on home sales, will have the desirable effect of reducing the rate of exurban sprawl and the abandonment of central cities.

"This law shows that it is possible to cut taxes, increase personal choice, and benefit urban areas and the environment at the same time," said James McElfish, lead author of Linking Tax Law and Sustainable Urban Development.

The study projects that each year, almost a quarter of a million homeowner households will move toward the cities rather than away from them because of the law's repeal of a capital gains provision that had made it prohibitively expensive for homesellers who had benefited from rising home values to buy less expensive homes in older neighborhoods.

The Clinton administration and Congress collaborated on the tax change after the President's Council on Sustainable Development called for reform of the former provision. Former section 1034 of the Internal Revenue Code indirectly compelled homeowners to purchase larger, newer, more expensive homes on larger parcels of land, rather than existing homes closer to older neighborhoods and urban centers, in order to avoid tax liability.

In addition, the 1997 Taxpayer Relief Act offers homeowners the ability to generate tax-free capital gains by rehabilitating older homes, using the "serial seller" strategy. Because the seller no longer needs to purchase a more expensive home in order to avoid taxation, owners can successively purchase low cost homes for revitalization, rehabilitate and sell them, and pocket the entire gain. In this way, homeowners can spur the revitalization of urban neighborhoods while reaping significant economic gains.

This feature of the law presents a substantial opportunity for existing public, private, and lender-based urban rehabilitation programs, such as the Federal Housing Administration's 203(k) loan program, to promote the increased rehabilitation of neighborhoods by homeowners.

For more information
Copies of the report cost $10 and can be ordered by calling 800-433-5120 or 202-939-3844 or by e-mail to orders@eli.org. To download for free, or to order online, visit http://www.eli.org/rrtax98.htm.