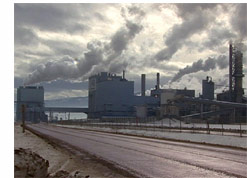 This section focuses on air quality and air pollution articles, speeches, reports, interviews, book and anthology excerpts, PowerPoint presentations, and presentation transcripts. Topics include air pollution prevention, air quality standards, airborne toxics, indoor air quality, acid rain, the environmental, economic, and human health impacts of poor air quality, and related subjects.
We are still faced with many outdoor air pollution problems despite years of effort and many successes in improving air quality. Cars have better emissions standards, but there are many more vehicles on the roads, and we are driving more miles per vehicle. Human health continues to be threatened by emissions from manufacturing facilities and coal-fired power plants. Specific air pollutants of concern include particulates, dust, smoke, soot, carbon monoxide, ozone, sulfur dioxide, mercury, lead, volatile organic compounds, and nitrogen oxides.

Conference & Campus Speakers On
Air Quality & Pollution Here >>

Gasp! The Swift & Terrible Beauty of Air. Book excerpt by Joe Sherman. Gasp! (Buy Here >>) is an investigation of air and of how it works in the body and in our world. Learn why over the last two centuries air has been transformed from something marvelous into something menacing. Blends the history and myths of air together with its environmental and physiological effects. Book Excerpt >> Buy Here >> More about Joe Sherman >>
An additional collection of articles on Air Quality & Climate Change related issues is available from The EcoIQ Magazine here.

Conference & Campus Speakers On
Air Quality & Pollution Here >>