EcoIQ President | EcoIQ Advisors | Site Credits
coIQ.com is an internet publishing and digital media company which exists

to support and promote a transition to sustainability. Our sites get approximately one million unique visitors annually from more than 100 countries. We provide media and educational products and services, and we focus on the strategies, tactics and tools needed by leaders, educators, and advocates working for sustainability.
EcoIQ began in 1989, and the first major work focus was conceiving and creating The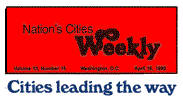 Global Cities Project for Earth Day 1990. For an article by the Project from Nation's Cities Weekly. . . .
The following year, EcoIQ was a principal designer of the New Environmental Strategies for Urban Prosperity conference sponsored by the Resource Renewal Institute. For the keynote speech from the conference. . .
EcoIQ's president is Dennis Church. With a two year break to serve as the Director of Policy and Planning for the Environmental Services Department in San Jose, he has managed EcoIQ since it was founded. EcoIQ is informed and inspired by the advice and counsel of the EcoIQ Advisors.
Comprehensive Site Home | EcoIQ Magazine | EcoGateway
About EcoIQ.com | Navigating EcoIQ.com | Cont@ct Us
EcoSpeakers.com | EcoSpeakers Bookstore | EcoIQTV
© Copyright 1997-2018 EcoIQ
---